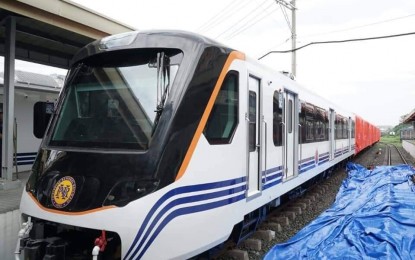 MANILA – The first package of the Philippine National Railways (PNR) Bicol project will begin construction in the first quarter of the year.
In a press briefing in Malacañang on Friday, PNR General Manager Junn Magno said the package would consist of the PNR Bicol's first 380 km. from Banlic, Calamba to Daraga, Albay.
"The construction works will begin (in) the first quarter of 2022," Magno said in Filipino.
During the briefing, Department of Transportation (DOTr) Undersecretary for Railways Timothy John Batan said their agency has requested the Department of Finance to fund the project's PHP142 billion contract through an official development assistance (ODA) loan from China.
Unlike other projects funded through ODA, Batan said, the PNR Bicol Package 1 had its construction contract signed before funding from China was secured.
While the project has the largest contract at PHP142 billion, the North-South Commuter Railway System is the biggest rail project of the DOTr, followed by the Metro Manila Subway Project, he added.
The construction of the PNR Bicol Package 1 is seen to be completed by 2024, and the start of operations by the third quarter of 2025.
The other PNR Bicol contract packages are set for completion between 2024 and 2026, with the entire PNR Bicol line scheduled to be operational by 2027.
The PNR Bicol is a 560-km. rail system consisting of 35 stations and will run from Manila through Laguna, Quezon, and Camarines Sur to Albay, with an extension line in Sorsogon and a branch line in Batangas.
The rail system's passenger trains will be designed to run at a speed of 120 kph to 160 kph and its freight trains designed to run at 80 kph to 100 kph, reducing travel time between Manila and Legazpi City, Albay from the current 14 hours to 18 hours to just six hours in its regular commuter trains and four hours and 30 minutes with its express trains.
On January 18, the DOTr awarded the contract for the PNR Bicol Package 1 to Chinese joint venture China Railway Group Ltd., China Railway No. 3 Engineering Group Co. Ltd., and China Railway Engineering Consulting Group Co. Ltd. (PNA)