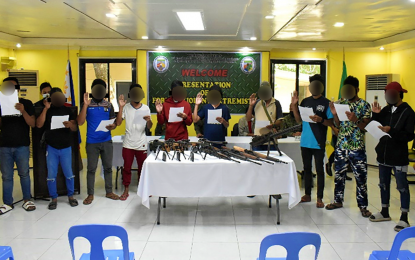 CAMP SIONGCO, Maguindanao - Twenty-three members of the extremist Bangsamoro Islamic Freedom Fighters (BIFF) and affiliate Dawlah Islamiya (DI) Group have surrendered due to their desire to return to the mainstream society, the Army here announced Saturday.
Maj. Gen. Juvymax Uy, the Army's 6th Infantry Division (6ID) chief and commander of Joint Task Force Central (JTFC), said the BIFF and DI surrenderers, who were operating in the peripheries of Maguindanao and North Cotabato provinces, yielded to the Army on Friday afternoon and brought with them 22 high-powered firearms and several improvised explosive devices.
Six of them belonged to the BIFF faction under Kagui Karialan, and two others from the DI Toraife group yielded to the Army's 90th Infantry Battalion (90IB) in Pikit, North Cotabato.
Three other BIFF combatants, also from the Karialan faction, and two from the DI Hassan group surrendered to the 90IB unit in Pagalungan, Maguindanao.
The remaining 10 BIFF surrenderers gave up to the Army's 1st Mechanized Infantry Battalion (1MIB) in Ampatuan, Maguindanao.
Lt. Col. Rommel Mundala, the 90IB commander, said his unit received a .30-caliber machine gun, two M16 rifles, five M14 rifles, two rocket-propelled grenade launchers, one grenade-type IED, one Ultimax machine gun, and one Barret rifle from the surrenderers.
Meanwhile, Lt. Col. Cresencio Sanchez Jr., the 1MIB commander, said his unit also received one .30-caliber Browning machine gun, one Carbine rifle, two M14 rifles, one Garand rifle, and four homemade sniper rifles from the BIFF group who yielded to his unit.
"This is the result of JTFC's continuous campaign against the terrorist groups to protect our communities from their atrocities and to achieve long and lasting peace in this part of the country," Uy said in a statement.
He added that the latest surrender raised to 53 the total number of former violent extremists who wanted to start a new life, since January 1.
"The security landscape in Central Mindanao will change if these accomplishments are sustained," Uy said.
"That is why I continue to call on our partners in the local government units, government and non-government agencies and organizations, stakeholders, and members of the communities to continue helping the JTFC in its effort to defeat violent extremism in Central Mindanao."
He also lauded the 6ID troopers for a job well done.
On January 15, operatives of the Army-led JTFC neutralized Norodin Hassan, the known emir for military affairs of the DI Hassan group, during a law enforcement operation in Carmen, North Cotabato.
Hassan, also the pinpointed mastermind of the January 11 Mindanao Star Bus bombing in Aleosan, North Cotabato, was slain with three other cohorts following the encounter with government forces. (PNA)