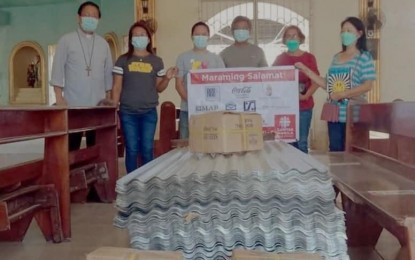 DUMAGUETE CITY – Hundreds of families whose houses were destroyed by Typhoon Odette during its onslaught in Negros Oriental on Dec. 16, 2021, will receive transitional shelter assistance from the Diocese of Dumaguete and its partners.
The project will provide families with simple but decent houses that they can immediately occupy once built, Fr. Hendrix Alar, emergency program leader of the diocese's Typhoon Odette Response command center, told the Philippine News Agency on Monday.
"These are housing units to be built in collaboration with the National Secretariat for Social Action (NASSA) of the Catholic Bishops Conference of the Philippines (CBCP) and Caritas Philippines, and perhaps other partners, while further arrangements or improvements for a more appropriate structure according to each of their needs can be made later," Alar said.
Some of these families are just renting or staying on another person's property and it would take time to do the paperwork, so a transitional home is the best, for now, he said.
As of January 24, the diocese, through the Parish Pastoral Councils (PPCs), has identified 315 beneficiaries in Jimalalud town; 104 in Tayasan town; and 208 in two separate parishes in Mabinay town, for a total of 627.

Alar said the diocese is looking at a collaboration with a company engaged in the bamboo business, with a meeting set between the bishop and the firm's representatives, to undertake the construction of the transitional shelters.
Meanwhile, typhoon victims with partially damaged houses have also already received shelter kits comprising of galvanized iron (G.I.) sheets and nails while another group has donated plywood, Alar said.
These shelter kits worth some PHP5,000 each were distributed to 150 households in Manjuyod and 100 others in Bais City.
An additional 80 pieces of G.I. sheets were distributed last week to more than 219 families through the St. Francis of Assisi Parish in Manjuyod, donated by parishioners of Dauin, headed by Msgr. Julius Heruela.
Alar thanked the NASSA/Caritas-Manila, Holy Child Hospital, Immaculate Conception Academy Alumnae, faculty, staff and students from San Juan City, and other organizations and individuals who shared their blessings with Typhoon Odette victims through the Diocese of Dumaguete.
The diocese initially launched its response efforts by distributing food packs and relief items to the victims since last month but is now focusing on the rehabilitation phase with ongoing meetings and consultations with the different PPCs.
"The parish assessment is very important to identify the right beneficiary to the housing assistance, and we hope to connect with more partners in the coming days," Alar said. (PNA)