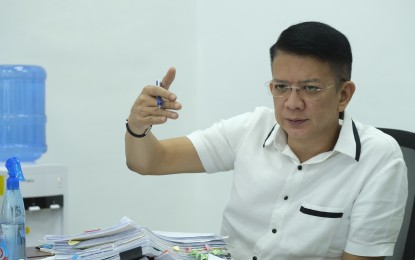 LEGAZPI CITY – Sorsogon Gov. Francis Escudero hopes that with Omicron cases peaking in Metro Manila and spreading to the provinces, the Department of Health (DOH) would empower local government units (LGUs) to implement a pandemic response tailored to local health realities.
In a statement on Wednesday, Escudero said local chief executives have come up with their own effective approaches to managing coronavirus disease 2019 (Covid-19) over nearly two years of the pandemic, even as he claimed they are derailed by changes in directions from the DOH-led Inter-Agency Task Force for the Management of Emerging Infectious Diseases (IATF).
He said there are many best practices that governors and mayors are implementing as a better response to the health crisis. Sorsogon has secured ISO certification for all its public hospitals.
Even with around 600 new Covid-19 cases in Sorsogon just this year—from zero cases last Christmas—Sorsogon's hospital occupancy rate is at a low 43 percent, and isolation and quarantine facilities are only 12 percent occupied.
"This is because the provincial government has secured home care kits as early as 2020 for distribution to asymptomatic Covid-19 patients or those with mild symptoms that do not require hospitalization," Escudero said.
Some affluent people, he said, even pay for hospital rooms for weeks just to secure places for their families who might end up getting Covid-19.
He expressed hope that not only the rich could benefit from the healthcare system.
Despite the devolution of health services mandated by the Local Government Code of 1991, he said LGUs have not been given sufficient autonomy to decide and implement their own health responses to public health emergencies, such as the Covid-19 pandemic and other initiatives such as vaccinations.
What LGUs need from the DOH, he said, is better disease surveillance and testing.
He urged the government to invest in strengthening the capacities of institutions such as the Research Institute for Tropical Medicine. (PNA)