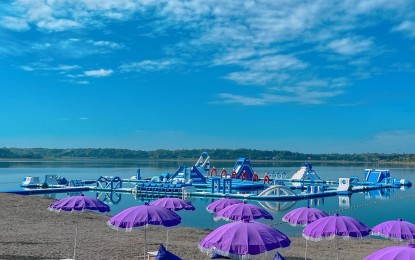 LAOAG CITY – The Ilocos Norte provincial government announced on Friday that its Paoay Lake waterpark will open on January 30 despite an earlier warning to defer" water contact activities" due to the presence of E-coli bacteria.
In a statement, it said the Department of Environment and Natural Resources (DENR) has granted the provincial government an Environment Compliance Certificate (ECC) but this was before a water testing, showing the lake has a high level of contamination and is unfit for swimming.
Provincial environment and natural resources officer Victor Dabalos confirmed the waterpark may open without "bathing activities".
"We were directed by our regional office to monitor the opening on Sunday afternoon and report back to the region our observation after the activity," Dabalos said.
Aianree Raquel, head of the Ilocos Norte Tourism Office, said in a phone interview visitors may still have fun and enjoy the waterpark without dipping into the lake waters.
"There are a lot of fun activities aside from the inflatable island that will be offered at the waterpark," Raquel said.
The management likewise assured that safety measures against the coronavirus disease 2019 will be observed.
To date, the inflatable island, over a hundred Bali-inspired umbrellas, and bean bags are now up at the waterpark for photo opportunities.
To invite more locals to have a glimpse of the biggest floating playground in Northern Luzon, the management is offering play pass tickets with PHP200 discount from the initial promo rate of PHP349 for two hours, PHP399 for half-day, and PHP499 for a whole day pass.
The PHP26.1 million waterpark is expected to attract visitors and boost the province's investment potential.
Based on the water quality monitoring report and results of laboratory analysis of the Paoay Lake on January 21, the lake water is highly contaminated with E. coli bacteria exceeding the "standard for Class C waters" and not fit for swimming.
E. coli are bacteria found in the environment, foods, and intestines of people and animals.
The presence of the bacteria ranging from 5,400 mpn (most probable number) in one sampling station to 160,000 mpn in another station means "the area is good for fishing and boating only", Dabalos earlier said. (PNA)