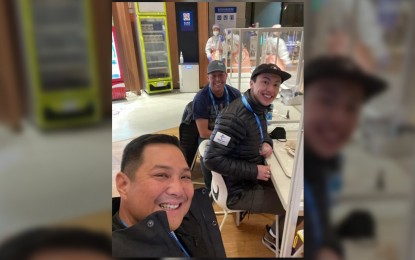 YANQING, China – Asa Miller set foot in China early Monday morning looking in his best shape ever—wiser and more skilled from four years ago when as a teenager at 17 competed in his first Winter Olympics.
Now, at 21 and with plenty of alpine skiing experience, Miller is all set to level up in the Beijing 2022 Winter Olympics that open on Friday.
His first words upon being welcomed by chef de mission Bones Floro were simple—obviously wary from the 15-hour journey he took with his dad Kelly from San Francisco to Beijing via Narita.
And the almost half-day difference in time zones was for Miller to get rid of first.
"It's good that we finally meet you face-to-face," Miller told Floro upon his arrival at the Yanqing Olympic Village. "It's going to be a very busy week for me because we need time to get acquainted with the village, setup skis and go skiing."
Philippine Ski and Snowboard Federation President Jim Apelar said the Filipino-American Miller looked ready for action in the men's slalom and giant slalom of alpine skiing which get going on February 13.
"Asa is in the best shape of his life as an alpine skier representing the Philippines," Apelar said. "He's fit and lifting a lot of weights during his training prior to his departure for China."
Apelar said the 5-foot-8 Miller gained more muscle since four years ago in Pyeongchang when he was a lanky teenager. And he's become matured.
"He's more mature and he's a true veteran now," Apelar said. "He's also gotten stronger and bigger this time."
With a stockier physique, Apelar said Miller has gotten the key points to become a strong skier—control, power and maneuver and navigate the pressure of a fast-paced race.
"That's why fitness is so important particularly in both the slalom and giant slalom," he said.
Miller made the rounds of competitions in the Lutsen Mountains in Minnesota, Winter Park Resort in Colorado, Snow King Mountains in Jackson and Wyoming and Snowbird Ski in Utah.
In Pyeongchang, Miller finished 70th in a field of 110 skiers in giant slalom.
"We're sure he'll do much better this time," Apelar said. (PR)