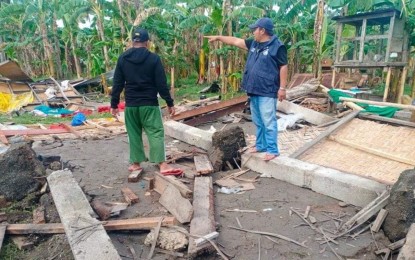 COTABATO CITY – The municipality of Mother Kabuntalan in Maguindanao has started giving help Wednesday to around 100 individuals affected by strong winds that destroyed some 30 homes in the area.
Mindato Malasigan, municipal disaster risk reduction and management officer, said the affected families have received initial aid from the town.
"They are temporarily staying in their relatives' homes," he said in a radio interview.
Seven houses were destroyed while 27 other homes were partially damaged when strong, howling winds slammed Barangay Taviran and six other neighboring villages on Monday night.
"The village of Taviran was hardest hit with house ceiling were seen flying after strong winds hit the town at past 6 p.m.," Malasigan said.
"Some described the wind as tornado or whirlwind," he added.
Two persons were injured in the incident.
The Bangsamoro Rapid Emergency Action on Disaster Incidence of Ministry of the Interior and Local Government have also distributed food packs to the affected families.
Malasigan said the disaster was so devastating and seemed unusual.
"Very strong, and appeared to be selective in hitting homes on its path," Malasigan said, adding that in a row of three houses, the middle was spared. (PNA)