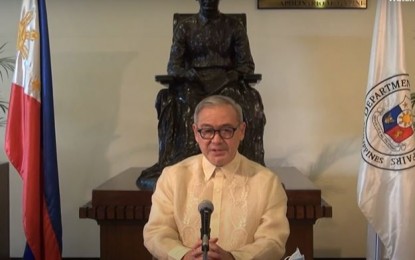 MANILA – Foreign Affairs Secretary Teodoro Locsin Jr. has extended his gratitude to the international community for its humanitarian aid to help Filipino communities hit by Typhoon Odette recover.
The top diplomat said Manila would continue to coordinate with the United Nations and its humanitarian country team to scale up response work in the stricken areas.
"The Philippine government will ensure that all our efforts, including those of UN agencies, bilateral and international partners, CSOs (civil society organizations), and the private sector, all converge to achieve the common goal of recovery and healing," he said in his opening remarks at a virtual briefing on the humanitarian situation in the Philippines on February 2.
The typhoon struck the Philippines last December 16, killing 409 and leaving USD669 million (approximately PHP34 billion) worth of damaged homes, agriculture, and infrastructure.
It also displaced more than 300,000 people in 9,604 barangays across Mimaropa, Regions 5 (Bicol), 6 (Western Visayas), 7 (Central Visayas, 8 (Eastern Visayas), 9 (Zamboanga Peninsula), 10 (Northern Mindanao), 11 (Davao) ,12 (Soccsksargen), 13 (Caraga), and the Bangsamoro Autonomous Region in Muslim Mindanao.
Locsin reported that the government has so far extended USD24 million (approx. PHP1.22 billion) worth of help to affected families, over PHP45 million of which was sourced from non-government organizations and other partners.
"More government resources are on standby, including over 300,000 family food packs worth USD4.6 million (approx. PHP235 million), non-food items valued at USD 12 million (PHP612 million), and USD39 million (approx. PHP1.99 billion) in reserved funding," he said.
To date, the Philippines received cash donations amounting to over USD79 million (PHP4 billion) from international partners.
Manila officially accepted 18 of the 49 aid offered in various forms, including the Humanitarian Needs and Priorities-based (HNP) response, which has delivered in-country assistance to 11 regions and 31 provinces.
"The HNP-based response is focused; it is a welcome supplement to the Government's efforts. In just over a month since its launching, the HNP raised USD48.1 million (PHP2.4 billion), representing 29 percent of its new target funding," Locsin said.
The HNP plan, launched by the UN Philippines last December 24, calls for USD107.2 million (PHP5.5 billion) to meet the most urgent humanitarian needs of typhoon-hit communities for the next six months.
The plan was developed based on preliminary assessment findings to kick-start immediate life-saving and protection activities, focusing on women, girls, and people with disability.
With the country finding itself in more stable conditions now, Locsin said several of its Response Clusters are already downscaling their operations.
But others must be sustained, including camp management and coordination; health; shelter; logistics; and distribution of cash aid, he stressed.
"We will continue to accept assistance based on these identified needs," he said. (PNA)