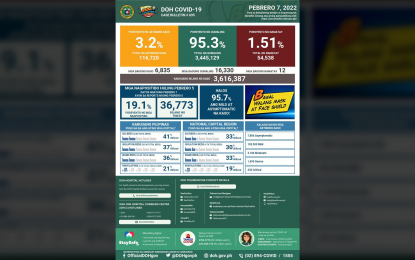 MANILA – The number of new coronavirus disease 2019 (Covid-19) cases in the country has further declined to 6,835 on Monday.
This is a significant drop from Sunday's 8,361 fresh infections, based on the latest Covid-19 bulletin of the Department of Health (DOH).
Monday's active case count has reached 116,720, a drop from Sunday's 126,227.
The majority of active cases have mild symptoms at 103,900, followed by the asymptomatic at 7,806, those with moderate symptoms at 3,184, those with severe symptoms at 1,495, and those in critical condition.
Meanwhile, another 16,330 recoveries raised the recovery count to 3,445,129, or 95.3 percent of a total of 3,616,387 confirmed infections since the start of the pandemic in 2020.
It also reported 12 new deaths, bringing the country's total to 54,538 deaths or 1.51 percent of confirmed cases.
Based on data gathered from Nov. 5, 2021, to Feb. 6 this year it said 71.8 percent of individuals suffering from severe and critical Covid-19 cases are not fully vaccinated.
Moreover, it said individuals that are not fully vaccinated make up 77.4 percent of Covid-19 deaths.
According to the latest testing data, 36,773 Covid-19 tests were administered on Saturday with a positivity rate of 19.1 percent.
The healthcare utilization rate in the country continues to drop, with 3,800 beds at intensive care units (ICU) at 41 percent occupancy, 20,900 isolation beds at 37 percent occupancy, 15,300 ward beds at 36 percent occupancy, and 21 percent of ventilators are in use.
In Metro Manila, there are currently 1,200 ICU beds at 33 percent occupancy, 4,700 isolation beds at 30 percent occupancy, 4,200 ward beds at 33 percent occupancy, and 19 percent of 1,000 ventilators are in use. (PNA)