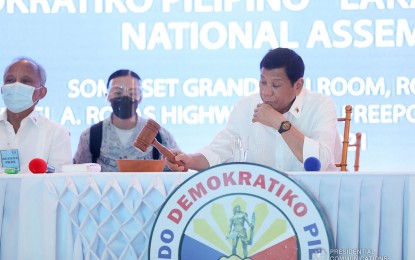 MANILA – The Partido Demokratiko Pilipino-Lakas ng Bayan (PDP-Laban) on Tuesday said it will endorse the presidential candidate who would continue the legacy programs of President Rodrigo Duterte.
In a statement, party president Alfonso Cusi said PDP-Laban would support the candidate who will pursue Duterte's agenda of change, stressing that the elections should be issue-based and not personality-based.
"What the country needs now, especially during this time of the pandemic, is a presidential candidate who will continue the tapang at malasakit (courage and compassion) brand of leadership of President Duterte that the people want," Cusi said.
He particularly noted that the Build, Build, Build, Free Education, Universal Health Care, Free Irrigation, Barangay Development Program (BDP), and the whole-of-nation approach to end local communist armed conflict are Duterte's legacy programs that Filipinos want to continue.
On January 21, PDP-Laban's national executive committee announced it will back up vice-presidential bet Sara Duterte "based on her credentials, advocacies and vision for our nation" but did not mention yet who it will support for president.
The PDP-Laban has adopted the 11-point Agenda for Continuity: fight against corruption, eradication of poverty, advancement of peace and order, ending the pandemic, defeating communist terrorism, sustaining economic growth, generation of jobs, strengthening national defense and foreign relations, educational reforms, decentralization and local government empowerment, and Charter change and federalism.
In terms of battling corruption, Cusi said the move towards transparency could be enhanced through the enactment of laws such as the conduct of pre-audit of all government transactions, the Freedom of Information bill, and the lifting of the Bank Secrecy Law.
For alleviating poverty, he said amendments to the Comprehensive Agrarian Reform Program (Republic Act 6657), specifically on land ownership, land valuation, and the method of land acquisition should be added, as well as the institutionalization of housing programs for homeless families nationwide, should be pushed.
To end communist terrorism, he said PDP-Laban wants to institutionalize the National Task Force to End Local Communist Armed Conflict, expand BDP, and pursue local peace engagement with the New People's Army.
For decentralization and local government empowerment, he said these could be achieved through the strengthening of the organizational capacity of local government units through training and technical support, and providing additional budget to help financially-challenged municipalities with the implementation of the Mandanas-Garcia ruling, or the just share on all national taxes.
Cusi said the party would continue to pursue the change in the form of government to a federal system, the return to a two-party system, lifting of the restrictive economic provisions of the 1987 Constitution, and the implementation of the anti-political dynasty provision. (PNA)