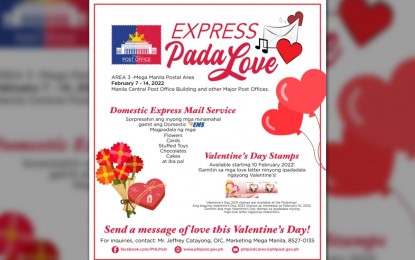 MANILA – The Philippine Postal Corporation (Post Office) brings back Express Pada-LOVE on Valentine's Day.
Not even Covid-19 can stop the Post Office from sending love this Valentine season.
This year, the Post Office continues its tradition of sending flowers, chocolates, stuffed toys, and other gift items from February 7 to 14 for Domestic Express Mail Delivery Service (DEMS) on Valentine's Day.
Starting February 7, the Post Office will accept orders through its Valentine's Day booths selling flowers, novelty, and food items at the lobby of the Manila Central Post Office following physical distancing and safety protocols.
This week-long celebration ends on February 14, Valentine's Day where the Postman and the "Singing Kartero's (mailman)" will serenade and send gifts of flowers and chocolates to those who placed their orders via Express Pada-LOVE.
The "Express Pada-LOVE" is a simple way to send flowers and letters of gratitude to someone special in our life.
The Post Office will deliver the items via door to door through its Domestic Express Mail Service (DEMS) anywhere in Metro Manila. They can also call for orders, through telephone number (02) 8527-0135 and look for Mr. Jeffrey Catayong. (PR)