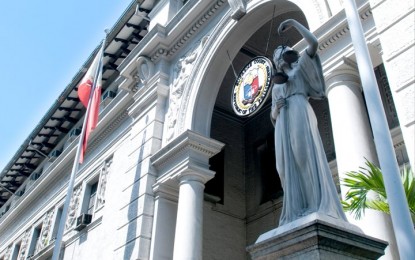 MANILA – The Supreme Court (SC) on Thursday announced the reorganization of its three divisions effective February 17.
In Special Order No. 2869 dated February 9, Chief Justice Alexander Gesmundo said the SC's First Division will be chaired by him with Associate Justice Alfredo Benjamin Caguioa as working chairperson and Associate Justices Samuel Gaerlan, Japar Dimaampao and Henri Jean Paul Inting as members.
Meanwhile, the Second Division is chaired by Senior Associate Justice Estela Perlas-Bernabe with Associate Justices Ramon Paul Hernando, Rodil Zalameda, Ricardo Rosario, and Jose Midas Marquez as members.
Marquez was also designated as an additional member of the Third Division chaired by Associate Justice Marvic Leonen and whose other members are Associate Justices Amy Lazaro-Javier, Mario Lopez. and Jhosep Lopez.
The high tribunal is currently composed of 14 magistrates after Associate Justice Rosmari Carandang bowed out of the judiciary upon reaching the mandatory retirement age of 70 last January 9.
The Judicial and Bar Council has earlier submitted to President Rodrigo Duterte the shortlist of eight candidates for Carandang's replacement.
They are former Commission on Audit chair Michael Aguinaldo, retired Commission on Elections commissioner Antonio Kho Jr., Court of Appeals Justices Maria Filomena Singh, Apolinario Bruselas Jr., Ramon Cruz, Sandiganbayan Presiding Justice Amparo Cabotaje-Tang and Associate Justice Geraldine Faith Econg, and SC Deputy Court Administrator Raul Villanueva.
Another vacancy in the SC is expected this year with the retirement of Perlas-Bernabe on May 14. (PNA)