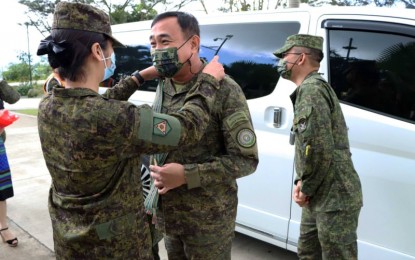 DAVAO CITY – Northern Luzon Command (Nolcom) Commander, Lt. Gen. Ernesto Torres Jr., has visited the 10th Infantry Division (10ID) headquarters in Davao de Oro as part of his February 11-14 exit call activities with his former troops and various government officials whom he worked side by side during his term as commander of the 10ID.
In a statement Tuesday, the 10ID said Torres was welcomed in traditional military honors at their headquarters in Mawab, Davao de Oro, on February 11 as he talked to the troops and thanked them for their contributions that led to the successful campaign of the unit during his stint as commander.
Torres assumed his new post as the 32nd commander of the Armed Forces of the Philippines' Nolcom on January 24, replacing then acting Nolcom chief, Maj. Gen. Andrew Costelo, who is now the commander of the 7ID.
During his visit at the 10ID, Torres also met with the division's multi-sector advisory and action group (MSAAG) members.
"I thank the MSAAG members and its chairman for their cooperation," he said.
He also visited elected officials in Davao de Oro and Davao del Norte on the same day.
On February 12, Torres headed south to render his exit call to Davao Occidental lone district Rep. Lorna Bautista-Bandigan then paid North Cotabato Governor Nancy Catamco a visit.
Torres gave plaques to all elected officials he visited as a simple gesture of appreciation for their cooperation and contribution to the mission accomplishment of 10ID.
He also vowed to his former counterparts that he will continue to bring the best practices displayed by the elected officials and the 10ID in his new assignment in Northern Luzon.
Torres will venture more on territorial defense as he will cover contested areas in the West Philippine Sea and Benham Rise with forces from the Navy and Air Force at his disposal in the Nolcom area. (PNA)