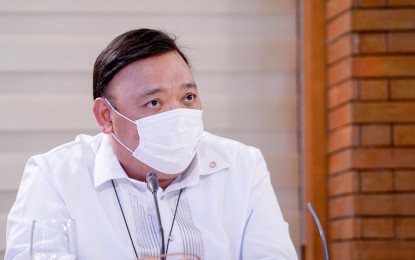 MANILA – UniTeam senatorial aspirant Harry Roque is urging Filipino voters to choose candidates who possess a mastery of the law and can build consensus in a collegial body.
Roque summed it up as "a combination of knowledge power and convincing prowess to successfully pass a law that has national significance."
"I encourage the electorate to vote for legislators who have demonstrated a keen understanding of how Philippine laws and jurisprudence work to advance the national interest," Roque said in a news release on Tuesday.
The former UP law professor added that voters should select a candidate who encourages consensus building, which is needed to pass a proposed bill or resolution in the Senate or House of Representatives.
"The Congress is the supreme policy-making body in our land. Ideally, we need lawmakers who are well-versed on legislative processes, as well as domestic and international laws," Roque stressed.
He said legislators could not effectively discharge their duties if they do not know how the law works to promote the greater good and get consensus with their peers.
"I appeal to the public to weigh in on a candidate's capacity to enact laws that would bring utmost benefits to them," Roque said. "They should scrutinize their political platform and advocacies through the years."
Roque has vowed to push for the 'zero hunger' law, right to potable water, 'three-day court hearing' rule, least-cost electricity, and better health coverage for all should he earn a Senate seat in May.
He also advised aspiring legislators to further their education in public administration and government management to craft laws that are genuinely responsive to their constituents' needs and aspirations.
As a former member of the Lower House, Roque sponsored 10 measures signed into law by President Duterte. He filed a total of 220 bills that are national in scope within 18 months in Congress.
Roque was the principal author of landmark legislation such as the Universal Health Care act, free irrigation for farmers, national AIDS law, free wi-fi in public places, free school lunch for school children, and free tuition for state university and college students.
He also co-authored the Balik-Scientist program, national mental health policy act, national cancer control program, energy efficiency and conservation program, and national competitiveness of micro, small and medium enterprises (MSMEs). (PR)