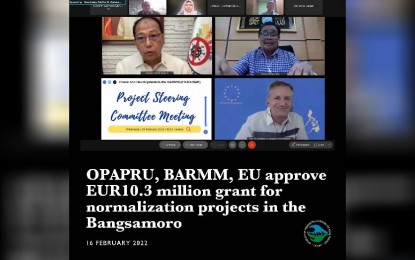 MANILA – More than EUR10.3 million (PHP601.9 million) worth of project grants is set to be implemented in support of the normalization process in the Bangsamoro government, the Office of the Presidential Adviser on Peace, Reconciliation, and Unity (OPAPRU) said Wednesday.
OPAPRU Secretary Carlito Galvez Jr. said the grant will be used to ensure a smooth normalization process within the Bangsamoro area.
Galvez thanked the technical review committee (TRC) for ensuring the alignment of proposals to the thrust and priorities of the normalization program, specifically on the development of the previously recognized six Moro Islamic Liberation Front (MILF) camps.
In a meeting, the Project Steering Committee (PSC) of the Mindanao Peace and Development Program-Peace and Development in the Bangsamoro Autonomous Region in Muslim Mindanao (MINPAD-PD BARMM) has approved several projects worth EUR10,389,839.
The funds will cover the Programme on Assistance for Camp Transformation through Inclusion, Violent Prevention, and Economic Empowerment (PROACTIVE) designed by the United Nations Development Programme (UNDP); the Dialogue and Engagement in Communities to Foster Peaceful Camps Transformation in the BARMM of the Center for Humanitarian Dialogue (CHD); the Access to Legal Identity and Social Services for Decommissioned Combatants (ALIAS-DC) by Initiatives for Dialogue and Empowerment through Alternative Legal Services (IDEALS); and the Building Community Resilience and Delivery of Essential Services for Post-Conflict Recovery in Lanao del Sur/Marawi City by the United Nations Children's Emergency Fund (UNICEF).
Meanwhile, BARMM Minister Mohagher Iqbal acknowledged the key roles of various local and international partners in the peace and development interventions within the Bangsamoro region.
"I know that everybody is really contributing so that final peace and sustainable peace will take place and happen to Mindanao," Iqbal said.
Apart from this, the PSC earlier approved three project proposals from the Nonviolent Peaceforce (NP), Fondation Suisse de Déminage (FSD), and the Philippine and Spanish Red Cross worth EUR8,576,905.
Christoph Wagner, Head of Cooperation of the European Union (EU)'s Delegation to the Philippines, said the latest developments will further revamp the agricultural industry in the region.
"Let's stay forward-looking. The government just signed a financing agreement of EUR20 million for the Bangsamoro Agri-Enterprise program. This is important because this will work on value chains in the BARMM that will support farmers' goods, food production, cash flow, and in particular for Halal and [other] products," he said.
Wagner cited the need to focus on camps transformation, socioeconomic interventions for the acknowledged camps and Marawi City, and the decommissioning process for MILF combatants.
"I really hope that these can start up soon because this socioeconomic support is crucial for the peace dividends. We will continue to [provide] our support," Wagner said, noting that project implementors will be starting the post-support to the Mindanao peace consolidation process by the second half of this year.
The MINPAD-PD BARMM is a joint undertaking between the EU delegation and the OPAPRU, with an aim to improve the social cohesion and resiliency of Bangsamoro communities as well as the capacities and confidence of diverse ethnic groups in the region. (PNA)