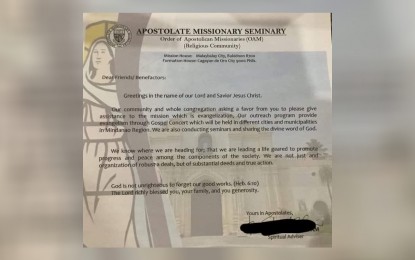 MANILA – The Archdiocese of Cagayan de Oro (CDO) on Thursday warned members of the clergy and the faithful against an alleged religious group roaming around the city asking for donations.
"It has come to my attention recently that a group called Order of Apostolican Missionaries (OAM) alleged to have a Mission House in Malaybalay City and a Formation House in Cagayan de Oro is roaming around the city unscrupulously soliciting funds or donations for evangelization works and outreach programs of their religious community," Cagayan de Oro Archbishop Jose Cabantan said in a post on the archdiocese's Facebook page.
Cabantan added that upon verification, they learned that the group is not in any way connected with the archdiocese.
"Upon verification with our Catholic Directory of the Philippines and the Chancery Office of Malaybalay such group does not exist. It may have carried the name "Catholic" but it is not in any way connected with us," he said.
Cabantan urged the public to immediately report to them such incidents.
"I cautioned all the faithful to please exercise extra vigilance against this bogus group. Please report similar incidents to our chancery office," he added. (PNA)