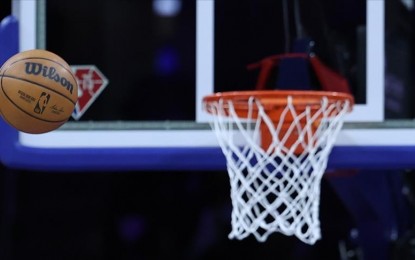 ANKARA – The Minnesota Timberwolves beat the Golden State Warriors 129-114 in an NBA game on Tuesday evening as Karl-Anthony Towns scored 39 points for the victors.
Towns also took nine rebounds at Minneapolis' Target Center.
D'Angelo Russell -- a Timberwolves point guard -- added 22 points and made seven assists, and Wolves' Malik Beasley scored 20 points.
Golden State superstar Stephen Curry led his team, scoring 34 points. Despite his effort, the Warriors lost the game.
Warriors' guard Damion Lee racked up 15 points and Gary Payton II added 14 points for the visitors.
Andrew Wiggins -- a Warriors star -- scored 12 points, took seven rebounds, and made four assists.
The Wolves took a 27-26 lead in the first quarter and never looked back during the whole game.
Also, with three minutes and 30 seconds remaining in the fourth quarter, the Timberwolves extended their lead by 21 points, 123-102 after Towns hit a three-point jump shot.
With this big lead, the Timberwolves cemented their victory.
Now seventh in the Western Conference standings, Minnesota had their 34th win in the 2021-22 NBA regular season. They previously lost 29 games.
They are fighting for the playoff berth.
The Warriors are in the second spot in the West with a 43-19 win-loss record.
Rockets get their 10th consecutive loss
Another team from NBA's Western Conference, the Houston Rockets were beaten by the Los Angeles Clippers, 113-100, to have their 10th straight loss in NBA.
Clippers center Ivica Zubac posted a double-double with 22 points and 12 rebounds at Toyota Center, Houston.
Marcus Morris scored 18 points and Reggie Jackson added 17 for the Clippers.
The Rockets were led by Jalen Green, who scored 20 points.
Houston center Christian Wood clocked up 17 points and took eight rebounds.
The Rockets' Turkish player Alperen Sengun tallied 13 points and nine rebounds.
The Clippers are in the eighth position in the West. They are going 33-31.
Houston is in the last place as they won 15 games but lost 46 others this season.
Other results: Washington Wizards - Detroit Pistons: 116-113; Toronto Raptors - Brooklyn Nets: 109-108; Boston Celtics - Atlanta Hawks: 107-98; and Los Angeles Lakers - Dallas Mavericks: 104-109. (Anadolu)