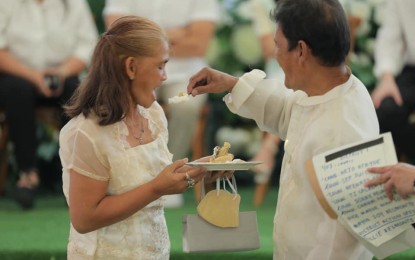 MANILA – A total of 6,233 indigent couples from Quezon City have legally sealed and solemnized their union, for free, hosted by the city government's Feb-ibig month-long "Kasalang Bayan" program.
In a statement on Thursday, QC Mayor Joy Belmonte said a number of the couples who availed of the program have already been living together for years, with some as long as four decades.
She added that more than the couples, it is their children who will benefit most from the union.
"Our Kasalang Bayan primarily aims to provide support to indigent couples who are already living together but are unable to pay for a ceremony due to economic constraints. But more than that, we want to give them and their kids the rights they deserve as they are now legally bonded," Belmonte said.
Through the program, Belmonte said children of the newly wed couples may now change their status to "legitimate."
The Family Code of the Philippines under Article 165 states that "Children conceived and born outside a valid marriage are illegitimate unless otherwise provided in this Code".
Meanwhile, Article 176 of the Family Code also states that illegitimate children shall have lesser rights compared to legitimate children.
The Family Code further states under Art. 178 that "Legitimation shall take place by a subsequent valid marriage between parents. The annulment of a voidable marriage shall not affect the legitimation".
Once legitimated, these children shall enjoy the same rights as legitimate children, and the effect of legitimation shall retroact to the time of the child's birth, stated under Articles 179 to 180 of the same code.
Belmonte served as the marriage officiant in the city's 'Kasalang Bayan', with other city officials including Vice Mayor Gian Sotto, City Civil Registry Department Head Salvador Carino Jr., and city councilors serving as witnesses.
The application for the marriage license, the registration of marriage certificate, and processing fees were free for those who were wed through the program.
During the wedding ceremony, the newly married couples were also feted with the traditional cake-cutting and wine tasting to make the occasion more memorable. (PNA)