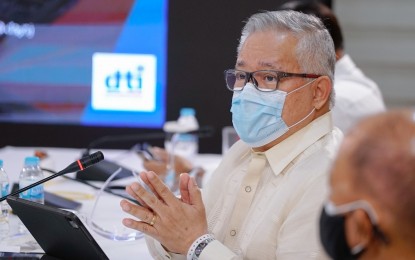 MANILA – Department of Trade and Industry (DTI) Secretary Ramon Lopez has welcomed President Rodrigo Duterte's signing of Republic Act 11647, amending the Foreign Investments Act, as this will usher in recovery from the pandemic.
The new law will allow more equity for foreign investors that will establish their businesses in the country.
"We in the economic team have always been in favor of reasonably opening up the economy and liberalizing as many restrictions that hinder the continuous and fast growth of the economy," Lopez said in a statement Friday.
The trade chief expects to attract more foreign investments with the enactment of the bill into law.
Lopez added that this is an opportune time for foreign businesses to expand their operations in the Philippines with the help of the new policy, as well as the full reopening of the economy as Metro Manila and key areas in the country, embrace the new normal.
"Indeed, we cannot overemphasize the importance of a major shift in mindset and economic policy direction. For the country to lead a path to recovery amid Covid-19, we have been a consistent advocate for the amendment of this passage which aims to lessen barriers for foreign entry and is expected to hasten the country's economic growth through foreign investment," Lopez said.
According to the Philippine Statistics Authority, approved foreign investments in the country's investment promotion agencies (IPAs) for 2021 increased by 71.5 percent to PHP192.34 billion from PHP112.12 billion in 2020.
The top foreign sources of investment pledges last year were Singapore at PHP80.17 billion, the Netherlands with PHP26.9 billion, and Japan with PHP24.47 billion.
On the other hand, the Bangko Sentral ng Pilipinas reported that foreign direct investments rose 52.5 percent from January to November last year at USD9.2 billion. (PNA)