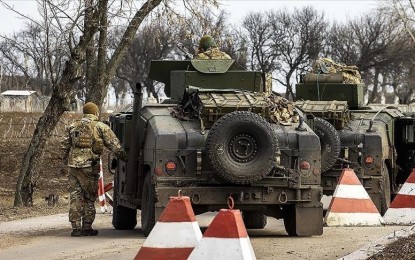 MOSCOW – Russia announced early Monday that it would declare a "temporary" ceasefire in the Ukrainian cities of Kyiv, Mariupol, Kharkiv, and Sumy from 10 a.m. local time (0700GMT) to ensure evacuations of civilians.
According to a statement by the Inter-Departmental Coordination Center for Humanitarian Response in Ukraine, affiliated with the Russian Defense Ministry, the humanitarian conditions in these Ukrainian cities have extremely deteriorated.
Noting that French President Emmanuel Macron requested the opening of a humanitarian corridor from his Russian counterpart Vladimir Putin, the statement read that the temporary cease-fire would be effective in the cities of Kyiv, Mariupol, Kharkiv, and Sumy.
The humanitarian corridor will be monitored via unmanned aerial vehicles, it added, saying relative departments of the UN, Organization for Security and Cooperation in Europe, and Red Cross were briefed about the development.
"We demand that Ukraine fulfill all conditions for the creation of humanitarian corridors in specified directions, and ensure the organized exit of civilians as well as foreign nationals," the statement also noted.
Russia's war on Ukraine has been met with outrage from the international community, with the European Union, UK, and US, among others, imposing a range of economic sanctions on Moscow.
At least 364 civilians have been killed and 759 others injured in Ukraine since Russia launched a war against the Eastern European country on Feb. 24, according to UN figures, with the real toll feared to be higher.
More than 1.5 million people have fled Ukraine to neighboring countries, according to the UN refugee agency. (Anadolu)