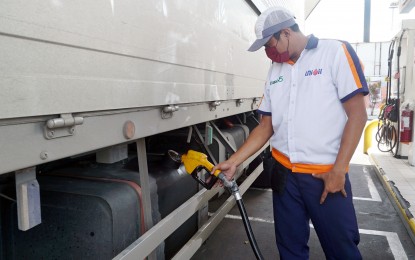 MANILA – The Independent Philippine Petroleum Companies Association (IPPCA) supports the establishment of a government-owned strategic petroleum reserve as one of the long term solutions to address the volatile oil prices in the global market.
IPPCA chair Fernando Martinez said in a Senate Energy Committee hearing Monday the stockpiling facility should be for crude as it is safer to store this than diesel and gasoline.
"It's strategic to store crude because you don't need to dispose (of) it immediately unlike diesel or gasoline," Martinez said, adding that diesel and gasoline have shelf life.
He said the industry has proposed to the government to convert land in Batangas and Bataan for strategic reserve facilities as both provinces have ports.
Martinez also reiterated a proposal for the central bank to put the country's reserves not only in dollars or gold but also in "black gold".
IPPCA has opposed the proposal of increasing the monthly inventory requirement for diesel and gasoline from 15 days to 30 days as this means oil players have to spend more on importing fuel products.
The industry group said the oil players are now spending PHP15 billion additional capital to import the same volume of petroleum products amid the soaring prices in the world market.
Expanding the monthly stock requirement will further increase the capital needed to import fuel products, and this could not be met by small independent players, Martinez added.
He said oil firms will also take all the losses when prices plunge after doubling their inventory.
Meanwhile, Martinez said the government should look into mechanisms on when to suspend the oil excise tax.
Instead of suspending the excise tax after three months of oil price hikes, he added it should be suspended after a month. (PNA)