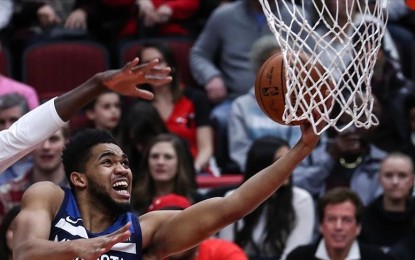 ANKARA – Karl-Anthony Towns scored a franchise-record 60 points to lead Minnesota Timberwolves to a 149-139 win over San Antonio Spurs late Monday.
The 26-year-old also set the 2021-2022 season-high for points dropped in a single game.
Having broken a new career-high record in points, Towns also grabbed 17 rebounds against the Spurs.
Patrick Beverley added 20 points and D'Angelo Russell had 19 points to contribute to the Timberwolves' 40th victory of the season.
For the losing side, Keldon Johnson scored 34 points, Dejounte Murray finished with 30 points and 12 assists, while Lonnie Walker IV came off the bench to add 22.
The Timberwolves are now seventh, while San Antonio Spurs ranked 12th with 26 wins and 43 losses.
Other results: Cleveland Cavaliers - Los Angeles Clippers: 120-111; Atlanta Hawks - Portland Trail Blazers: 122-113; Philadelphia 76ers - Denver Nuggets: 110-114; Oklahoma City Thunder - Charlotte Hornets: 116-134; Golden State Warriors - Washington Wizards: 126-112; Sacramento Kings - Chicago Bulls: 112-103; Utah Jazz - Milwaukee Bucks: 111-117; and Los Angeles Lakers - Toronto Raptors: 103-114. (Anadolu)