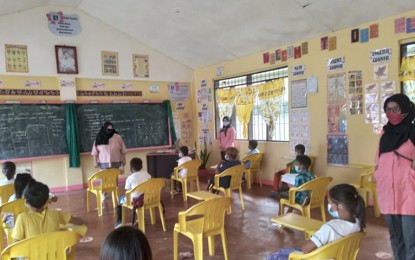 MANILA – A party-list lawmaker on Thursday said the enactment of the law mandating all schools nationwide to ensure inclusive education for learners with disabilities (LWDs) is another step forward for the promotion and protection of the rights of persons with disabilities (PWDs).
ACT Teachers Rep. France Castro welcomed President Rodrigo Roa Duterte's signing of Republic Act (RA) 11560, calling it another victory for LWDs and disability education advocates who underwent "several years, even decades of struggle" just to push the government for their right to education.
Castro noted that an overwhelming majority of PWDs are unable to study even in public schools due to lack of teachers or learning resources and facilities that will suit their needs.
"No children should be left behind and we should adjust our education system to accommodate the needs of our LWDs," Castro said.
The new law, she said, would also be a continuation of the Filipino Sign Language Act.
She said one of the salient points of the law is the principle of "reasonable accommodation", which is a mandate of several international laws like the Universal Declaration of Human Rights, United Nations Convention on the Rights of Persons with Disabilities, and the UNESCO Salamanca Statement.
"With reasonable accommodation as the bottom-line, government is mandated to focus on how it should adjust the education system to accommodate the needs of a child, rather than just thinking of where to place him or her," she said.
Other significant aspects of the law include the prohibition of any form of discrimination against LWDs which includes the denial of reasonable accommodation; the inclusion policy provision that no schools should close its door to any learner by reason of his or her disability; the Child Find System which identifies LWDs as early as 3 years old up to 24 years old so to include them in the basic education system.
The law also creates the Inclusive Learning Resource Center of Learners with Disabilities (ILRC) which refers to a physical or virtual center that provides support and related services to teaching and learning.
Castro said the law provides several commitments in terms of provision for instructional materials of LWDs, the hiring, training, and compensation of teachers for LWDs or Special Needs Education teachers and other ILRC personnel and learner assistance.
"We strongly urge the government to implement this law in the soonest possible time and to immediately craft the Implementing Rules and Regulations for the benefit of our LWDs, as well as the implementing agencies to ensure that there is a sufficient budget for its initial implementation and continued implementation as included in their respective budgetary allocations," she said.
RA 11560, inked by Duterte on March 11, provides that no learner shall be denied admission based on their disability.
The new law provides that all schools, whether public or private, shall ensure equitable access to quality education to every learner with disability.
"The policy of inclusion is hereby instituted in all early and basic education schools, both public and private," the law read.
The implementing rules and regulations (IRR) of RA 11560 must be included in the admission systems and policies of all schools.
The IRR, according to the law, shall include the provision of assistive devices, facilities and infrastructure in the admission process, and other forms of reasonable accommodation.
Under RA 11560, all learners with disabilities, whether enrolled in public or private schools, shall be accorded services and reasonable accommodation based on the Individualized Education Plan (IEP) and shall have the right to avail of the appropriate support and related services. (PNA)