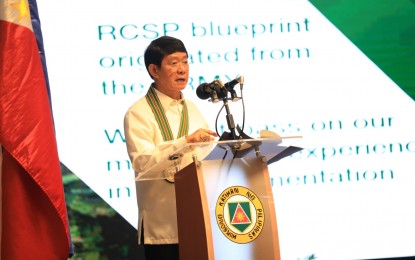 MANILA – Former Philippine Army (PA) chief and now Department of the Interior and Local Government (DILG) Secretary Eduardo Año urged the force to intensify its modernization efforts to be at par with emerging warfare techniques.
"Being the last line of defense in territorial defense following the Air Force and Navy, our Army must likewise beef up its modernization program. We need to be abreast with emerging systems, technology and hardware to keep up with modern warfare techniques," Año said in his speech at the closing of the two-day PA's Senior Leaders Conference (SLC) at the PA headquarters in Fort Bonifacio on Thursday.
Año also said modernization of the service would not be possible without proper funding while emphasizing government support for the program.
"But these would not be possible without proper budget and funding. Thus, rest assured that the national government fully supports the PA's modernization thrusts," he added.
Año also served as Armed Forces of the Philippines (AFP) chief before being appointed by President Rodrigo R. Duterte to the DILG in 2018.
In a speech during his assumption of command last December, PA chief Lt. Gen. Romeo Brawner Jr. vowed to continue the programs implemented by his predecessor and now AFP chief-of-staff, Gen. Andres Centino.
"It is imperative that we pursue this thrust so that we are able to accomplish the mission that was ordered by no less than the Commander-in-Chief (President Rodrigo R. Duterte) which is to end the local communist armed conflict by the end of his term," he said.
In the long term, Brawner said the thrust to equip soldiers with the resources, equipment and skills would help propel the Army towards modernization and achieving its vision to be world-class by 2028.
Resources include the necessary equipment, aside from the enhancement of skills of the soldiers so that they are prepared for the challenges of neutralizing these threats.
The PA's annual summit aims to cultivate the culture of strategic thinking within the organization and introduce effective leadership principles to ranking officers.
This year's edition of SLC is anchored on the theme "Driving the Transformation Momentum: Winning Tomorrow's Wars Today."
Around 70 senior leaders attended the symposium physically at the Philippine Army Officers' Clubhouse while more than 200 others joined via video teleconferencing.
Local and foreign subject matter experts delivered online lectures on three modules: the future of warfare and its implications on Army concepts and capabilities; rethinking military leadership strategies; and "future-proofing" the PA.
The SLC, which was first held in 2004, is part of a series of month-long events to celebrate the 125th founding anniversary of the Army this March 22.
The PA also launched three comprehensive information systems designed to provide responsive and relevant services to Army personnel on the second day of the conference. (PNA)