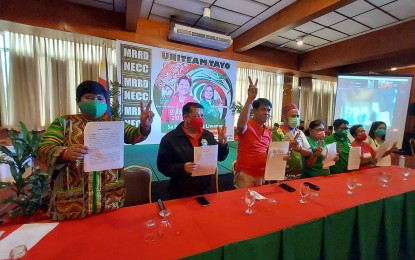 MANILA – The UniTeam tandem of presidential aspirant Ferdinand "Bongbong" Marcos Jr. and vice presidential candidate Sara Duterte "can protect the best interest" of the country and the Filipinos, thus earning the support of multi-discipline group Movement for Reform and Regional Development toward New Economic Cultural Cooperation (MRRD-NECC) on Monday.
Lawyer Diosdado Padilla, who led the declaration of support for Marcos and Duterte, said they expect the tandem to sustain the gains of the current administration.
"We believe that Bongbong Marcos and Sara Durterte will be a perfect tandem with the best character, credibility, experience, competence, and leadership ability to guide and steer our country for continuity, security, recovery, and economic growth," Padilla said in a ceremonial signing of manifestation at the Aberdeen Court in Quezon City.
The MRRD-NECC is the same group that supported the candidacy of President Rodrigo Duterte in 2016.
The group also vowed it will support the UniTeam's call for unity.
"We will remain united with Bongbong Marcos and Sara Duterte in our common objective of promoting unity of the whole nation, our countrymen, and our organization," Padilla said.
The MRRD-NECC will likewise respect the political choice of some of its officers and members.
"Because as a volunteer organization, we believe in freedom of choice," he said.
The MRRD-NECC is composed of "thousands of volunteer members" from sectors such as overseas Filipino workers, LGBTQ (lesbian, gay, bisexual, transgender, queer or questioning), farmers and fisherfolk sector, United Muslim Federation of the Philippines, urban poor communities, politicians, and professionals, among others.
"The effort and tools of the MRRD-NECC were invaluable in securing the Malacañang for our dear President Rodrigo Roa Duterte and helped immensely in maintaining the majority in the House of Representatives in favor of the administration. We now put our hearts and souls in exerting the same effort and beyond for the BBM and Sara Duterte campaign, who shall fight to maintain the legacy of change and discipline that President Duterte has started," the MRRD-NECC statement read. (PNA)