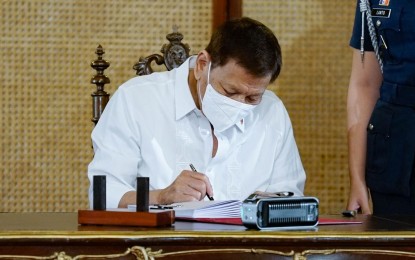 MANILA – President Rodrigo Roa Duterte on Monday signed into law a measure amending the Public Service Act (PSA), allowing up to 100 percent foreign ownership of public services in the country.
Republic Act (RA) No. 11659 or "An Act Amending Commonwealth Act No. 146 otherwise known as the Public Service Act" as amended was signed by Duterte in a ceremony at the Rizal Hall, Malacañan Palace in the presence of lawmakers and other officials.
Under the amended PSA, the telecommunications, railways, expressways, airports, and shipping industries will be considered public services, allowing up to 100 percent foreign ownership in these sectors.
Duterte also led the ceremonial presentation of newly enacted laws namely RA 11647 which amends the Foreign Investments Act; RA 11650, which ensures inclusive education for learners with disabilities; and RA 11648, which increases the age for determining statutory rape from 12 to 16-years-old.
In his speech, he thanked Congress for the timely ratification of the amended PSA, noting that it will aid the country in leading the path towards economic recovery amid the Covid-19 pandemic.
"I believe that through this law, the easing out of foreign equity restrictions will attract more global investors, modernize several sectors of public service and improve the delivery of essential services," Duterte said.
He said the amended PSA and amended Foreign Investments Act will both help stimulate the economy, especially for local businesses.
"It is also expected to generate more jobs for Filipinos, improve basic services for Filipino consumers, and allow for the exchange of skills and technology with the country's foreign partners," he added.
RA 11647 or the amended Foreign Investments Act relaxes restrictions on foreign investments by allowing foreign investors to invest in a local enterprise up to 100 percent of its capital.
Meanwhile, Duterte said RA 11650 attests to the administration's commitment to provide "inclusive, accessible, and quality" education in the country, especially for learners with disabilities.
"The establishments of formal school systems, including the implementation of alternative delivery modes, and at least one Inclusive Learning Resource Center in all cities and municipalities will surely make learning fun and accessible to the differently abled," he said.
He described RA 11648 as an "important" law meant to fulfill his promise of a "safer" country for all Filipinos, especially the youth.
"The enactment of the policy increasing the age for statutory rape demonstrates the administration's dedication in building safer communities for its people by providing [protection] for the children, among others," he added.
Duterte said it is not enough to just amend and sign laws, noting that the government must ensure that these are fully and efficiently implemented by all concerned agencies.
"As my term will soon come to a close, I challenge all of you—our leaders both at the national and local levels as well as all civil servants who are involved in governance —to work together in ensuring that we strictly uphold the rule of law. Let us all be vigilant and make sure that no one is above the law and that no Filipino will be left behind as we move forward to a much better Philippines," he said.
He also said he is "very happy" to end his six-year term as president by June 2022. (PNA)