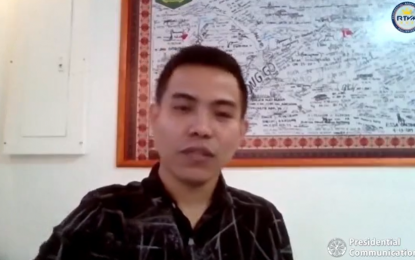 MANILA – A former rebel has revealed that "red tagging" is a term concocted and being used by the Communist Party of the Philippines-New People's Army-National Democratic Front (CPP-NPA-NDF) to protect their so-called "legal fronts" such as Party-list groups Kabataan, Anak Bayan, Bayan Muna, Gabriela, Karapatan and ACT-Teachers from culpability.
"Red tagging is a word used by the communist group to cover and protect its legal fronts which the Commission on Election has unwittingly accredited via the party-list system. We can see them in Congress," Cristoni "Jong" Latiban Monzon alias Ka-Franco said during Monday's virtual press briefing of the National Task Force to End Local Communist Armed Conflict (NTF-ELCAC).
Monzon, who had just recently surrendered to government forces along with two other rebels, served as a former political instructor of the CPP-NPA-NDF's Regional Operations Command, Southern Mindanao Regional Committee.
Recruited in 2009 when he was still a minor while studying Civil Engineering at Davao City's University of Mindanao, Monzon spent 13 years of his young life being part of the core group of the CPP-NPA-NDF in the region.
He said his ordeal with the communist terrorist groups (CTGs) should vouch for his revelations.
It was in 2009 that his father was killed and his recruiter from Karapatan brainwashed his young mind to believe that government soldiers were the ones responsible for his father's death, which is why he was enticed to join the CTGs, the former rebel said.
He confirmed that Kabataan, Anakbayan, Bayan Muna, Gabriela, Karapatan and ACT-Teachers are part and parcel of the CPP-NPA-NDF, and cautioned students and other young voters not to be swayed by the deceitful propaganda of the communist movement's so-called legal fronts.
Monzon said he became a volunteer for the Karapatan's allied organization called Hustisya (Justice) and called for justice over his father's death. He was then recruited by Anakbayan and became one of its youth leaders and eventually became a spokesperson for the group.
He then lived at the Kabataan party-list's headquarters and was tasked to educate students of different campuses regionwide. Eventually, he became a member of one of the CTG's underground movements, Kabataang Makabayan.
"Kukunin ang emotion mo. At dahil nga sa pagkamatay ng aking ama, curious na ako sa lahat na ng issues (They will use your emotion. And since my father has just died, I was curious then about all the issues). To be more active because agitated na and was told to recruit students to upsurge the movement," he explained.
Later on, Monson said he was deployed to teach those in the countryside and became the secretary-general of the "Pasakaday Salugpongan Kalimodan" (PASAKA), the CPP-NPA-NDF's front organization that exploits Indigenous Peoples (IPs) by offering them free education.
"It is based on a defense mechanism, to demonize the military in a public campaign using the IPs and to pressure government troops into abandoning hinterland areas under their influence" Monzon said, adding that IPs were also used to get international funding.
The issuance of warrants of arrests against him prompted him to hide in the mountains as instructed by the CPP-NPA-NDF command, as he was made to believe that the military was out to kill him.
But the hardships of living in the mountains along with firearm training took a toll on him, so he escaped along with two other IP rebels and turned themselves to local authorities led by Davao Oriental Governor Nelson Dayanghirang.
"Hindi naman pala totoo ang sinasabi nila sa kin na berdugo ang mga militar, in fact approachable sila. Nagpapasalamat ako sa binigay ng mga sundalo sa akin na second chance (Later I found that what they told me that the soldiers are executioners is not true. In fact, the are approachable. I would like to thank the military for giving me a chance)," Monzon said.
The CPP-NPA is listed as a terrorist organization by the United States, the European Union, the United Kingdom, Australia, Canada, New Zealand, and the Philippines.

The NDF has been formally designated as a terrorist organization by the Anti-Terrorism Council on June 23, 2021, citing it as "an integral and inseparable part" of the CPP-NPA created in April 1973. (PR)