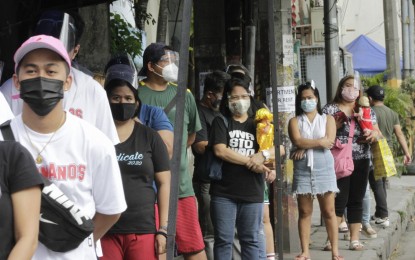 MANILA – Despite a decline in the number of new coronavirus disease 2019 (Covid-19) cases and hospitalizations in the country, President Rodrigo R. Duterte said he is "not ready" to lift the face mask requirement yet.
In a prerecorded public address aired Tuesday morning, Duterte said he is not keen on relaxing face mask protocol yet because this reduces the chance of spreading Covid-19.
However, he said he sees no problem doing away with wearing face shields over masks and plastic barriers.
"I am not ready to order the removal of the mask pero siguro yung plastic na ano cover puwede na 'yun. Pero (but the plastic covers no longer need to be required. But) as I said it has done a lot of good…prevented the contamination from spreading," he said. '
Duterte expressed concern over a new Covid-19 variant detected in Israel, noting that it could eventually reach Philippine shores.
"Matagal pa ito (This will stay for a while) and there are reports…I don't know if it's subject to confirmation na may bagong (that there is a new variant of) Covid found in Israel so whether we like it or not, kung totoo 'yan (if it's true), it will reach again the shores of our country," he added.
Department of Health (DOH) Secretary Francisco Duque III, for his part, agreed that masking should stay as a critical public health tool.
Last week, Israel's health ministry announced it found two people in the country infected with a new Covid-19 variant that is a combination of the two subvariants of Omicron BA.1 and BA.2.
Israeli officials, however, said they are "not unduly worried" about them leading to serious cases.
The DOH said the public does not need to be alarmed by the entry of travelers since safety and surveillance measures are still in place.
Health Undersecretary Ma. Rosario Vergeire said the new Covid-19 variant is still being studied, adding that the World Health Organization (WHO) has no further announcement yet on the matter.
In its latest case bulletin, the DOH said there are 3,572 new cases of (Covid-19) in the country from March 14 to 20.
Crackdown on violators remains
Meanwhile, the Department of the Interior and Local Government (DILG) said the crackdown on violators of minimum health protocols continues despite the easing of Covid-19 restrictions.
"We can see in the past two weeks, there was a slight rise in the number of arrests of those not wearing face mask, reaching 90,585 and 931 apprehensions were recorded for mass gathering violations and 34,000 were nabbed for the unnecessary violation of no physical distancing,'' DILG Secretary Eduardo Año told President Duterte.
Año added that the total number of areas under granular lockdowns dropped dramatically due to the continued decrease in the country's Covid-19 cases.
"We can see there are only a few areas in the country which are under what we refer to as granular lockdown. Overall, there are only three cities/municipalities or five barangays that have granular lockdowns. And seven, seven granular lockdowns and we can see that in NCR there are only two, two households and two individuals are affected,'' Año said in Filipino.
He also hoped that the downward trend in the country's Covid-19 cases will continue as many local government units (LGUs) under Alert Level 1 now have the opportunity to enhance their economic and livelihood activities.
Metro Manila and 47 other places are under Alert Level 1 for the rest of March. (with Lloyd Caliwan/PNA)