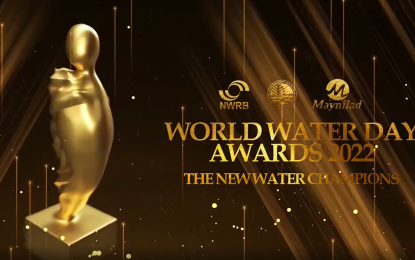 MANILA – The Department of Environment and Natural Resources (DENR) on Tuesday said the government has started studying other prospective locations for groundwater sources amid the challenges posed by climate change.
In a virtual celebration of World Water Day, DENR Acting Secretary Jim Sampulna stressed the need to ensure a sustainable supply of clean water given that 30 percent of freshwater resources is groundwater, extracted and managed to suffice the needs of the global's growing population.
"Groundwater is indeed a crucial resource that requires our management and balancing act between extraction and allowing the recovery and sustainable management of aquifers for long term beneficial use of our people," Sampulna added.
Among the prospective locations for groundwater sources being studied by the National Water Resources Board (NWRB) are Tagbilaran, Batangas, Cavite, Masbate, Laguna, and Bulacan, the DENR said.
Maynilad president and CEO Ramoncito Fernandez stressed the need to increase discussions on groundwater studies, to ensure an equitable supply of drinking water for future generations.
"With climate change continuing to threaten our water sources, sustainably managing our groundwater sources is critical, we need to make the invisible, visible, by breaking discussions on groundwater protection to the mainstream," he said.
In the same event, 14 "water champions" in the country were recognized for their exemplary practices in water irrigation, treatment, and urban management.
The DENR said their best practices are vital in combating challenges in increasing demand versus limited supply, poor water quality due to pollution, and climate change, among others.
Besides the World Water Day Awards, the Ecosystems Research and Development Bureau–DENR also held its online webinar in line with the celebration.
Senior Science Research Specialist Reg Winlove Bungabong stressed the importance of water treatment management nowadays to ensure access to clean or drinking water.
"Compared siguro noong mga panahon ng ancestor natin, directly kumukuha lang sila ng water from the spring kahit yung iba diretso nang umiinom sa river. Pero ngayon kasi 'yung mga results ng mga monitoring talaga natin ng mg water systems natin may mga contaminants na talaga sa tubig so hindi na siya pwedeng inumin na hindi natin tini-treat 'yung tubig natin (Compared to the time of our ancestors where they can easily access drinking water in springs or river. But now, monitoring on our water systems shows there are contaminants in water sources, and we can no longer drink untreated water)," he said.
Ensuring access to clean water and sanitation for all is the sixth among the 17 Sustainable Development Goals (SDGs) set by the United Nations, targeted to be achieved by 2030.
According to the SDG Tracker, the Philippines' share of the population using "safely managed" drinking water is at 47.46 percent as of 2020. (PNA)