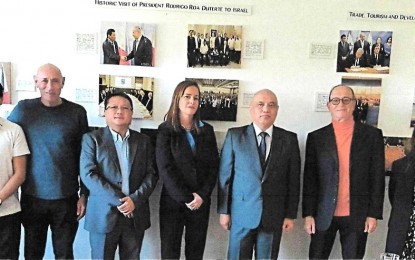 MANILA – Israel and the Philippines are working to fast-track the deployment of some 500 Filipino hotel workers as Israel reopens its tourism industry, the Department of Foreign Affairs (DFA) said Tuesday.
The agency said Philippine Ambassador to Israel Macairog Alberto met the officials of the Israel Hotel Association (IHA) last March 14 in hopes to expedite the OFWs' deployment by April 2022.
"As Israel reopens its tourism industry, allows the entry of both vaccinated and unvaccinated travelers, and eases its travel and health restrictions, its hotel sector will require a full workforce to cater to the expected influx of tourists to the Holy Land," the DFA said.
"The Philippines and Israel are thus working together to fast-track the arrival of the initial batch of 500 Filipino hotel workers in the first week of April, ahead of Passover and Holy Week, both peak holidays and tourist-draws for the country," it added.
The project is under the 2018 Philippines-Israel labor agreement for a government-to-government arrangement for Filipino hotel workers in Israel.
During the March 14 meeting, IHA said its members may require up to 10,000 laborers and expressed readiness to hire 800 Filipino hotel workers, which will then be increased to 2,000 at the earliest opportunity.
IHA also praised the Filipino workers' professionalism, English proficiency, and work.
Alberto, meanwhile, assured the association that the Embassy is working closely with the Department of Labor and Employment, Philippine Overseas Employment Administration, as well as with Israeli labor and immigration authorities for the deployment.
He proposed that Israeli hotels take in Filipino students on on-the-job training programs, which the IHA positively received and committed to consider after the initial deployment of Filipino workers has been accomplished. (PNA)