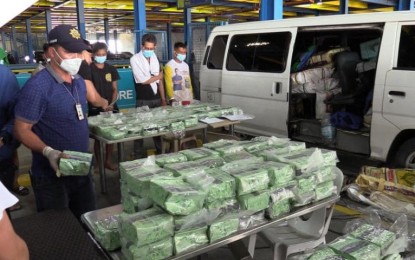 MANILA – The Department of Justice (DOJ) has approved the filing of criminal charges before a local court against 10 individuals arrested while transporting more than 1,680 kilos of shabu worth nearly PHP11 billion in Infanta, Quezon on March 15.
In a statement on Friday, the Office of the Prosecutor General Benedicto Malcontento said a resolution dated March 21 resolved to indict Alvin Ibardo, Jaymart Gallardo, Reynante Alpuerto, Jenard Samson, Jamelanie Samson, Mark Bryan Abonita, Marvin Gallardo, Dante Mannoso, Eugene Roger Bandoma, and Kennedy Abonita for violation of Section 5 of Article II of Republic Act No. 9165 (Dangerous Drugs Act), or the "Sale, Trading, Administration, Dispensation, Delivery, Distribution and Transportation of Dangerous Drugs and/or Controlled Precursors and Essential Chemicals".
The group was nabbed by agents of the National Bureau of Investigation (NBI) Task Force Against Illegal Drugs while transporting 1,680.563 kilos of shabu contained in 1,589 tea bags.
The illegal substances were recovered from three white vans flagged down in Barangay Comon.
"After evaluation of the evidence, the panel of prosecutors found the arrest of the respondents to be valid. Also, there is sufficient evidence to hold respondents for trial. All the respondents were apprehended while on board the suspected vehicles plying along the national highway in Infanta, Quezon. The vehicles were loaded with several sacks of tea bags containing methamphetamine hydrochloride, as determined in the laboratory examination report," the DOJ said.
The NBI Task Force's operation was based on an information that illegal drugs would arrive in the Philippine through the shores of Quezon province within the first quarter of the year 2022.
According to tips, boatmen would receive illegal drugs from a ship and bring the shipment to Quezon province. Another group would transport the contraband by land.
When NBI agents flagged down the suspected vehicles, one of the drivers tried to escape but was subdued.
"The NBI is determined and will use all available resources to ferret out the truth and will leave no stone unturned to find out the mastermind in this criminal attempt to trade illegal drugs in our country," NBI Deputy Director Ferdinand Lavin said in a statement after the operation that is touted as the biggest drug haul in recent years. (PNA)