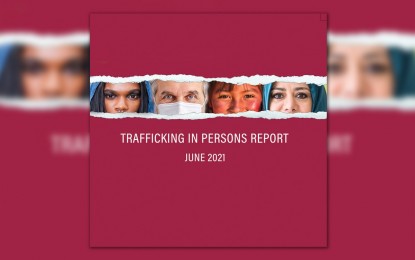 LAPU-LAPU CITY, Cebu – A regional trial court here has convicted two female human traffickers for engaging in sexual exploitation of children online, according to the Women and Children Protection Center-Visayas Field Unit (WCPC-VFU) statement on Friday.
The two accused were among the five people arrested in an entrapment operation on March 21, 2019 conducted by the said unit of the Philippine National Police (PNP) inside two houses in this island city.
Elements of the WCPC caught the traffickers offering "to sexually abuse the minors and stream live the exploitation in exchange of money from online predators."
The authorities rescued 11 minors during the three simultaneous operations with the victims aged 2, 6, 7, and 12.
The conviction, handed down on March 11, 2022, came after the two accused struck a plea bargaining agreement to plead guilty to a lower offense related to online sexual exploitation.
Lapu-Lapu City Assistant Prosecutor Antonio Aseniero, the fiscal on the case, said the conviction of the two accused is a welcome development in the state's fight against online sexual exploitation of children or OSEC.
"The fight against OSEC continues... With God's guidance and the help of the community, such as the IJM (International Justice Mission), anything and everything is possible," Aseniero said.
Lawyer Lucille Dejito, IJM-Cebu field office director, said the plea bargaining strategy again proved to be an effective legal instrument to secure justice for the survivors of the March 2019 rescue.
"With the two suspects pleading guilty for other offenses such as attempted trafficking, their victims can now be assured that justice has finally prevailed," she said.
After pleading guilty to attempted trafficking, the two accused will each face 15 years imprisonment and a fine of PHP500,000.
The court also ordered each suspect to pay an additional PHP500,000 for moral damages and PHP100,000 for exemplary damages.
The three other accused would stand trial for violating Republic Act 9208 or the Anti-Trafficking in Persons Act of 2003 and pleaded not guilty of the offenses filed against them.
The conviction happened less than a week after the third anniversary of the Philippine Internet Crimes Against Children Center, cooperation among local and international law enforcement groups such as PNP-WCPC, the National Bureau of Investigation's Anti-Human-Trafficking Division (NBI-AHTRAD), the Australian Federal Police (AFP), and the United Kingdom National Crime Agency (UK NCA), in partnership with the non-government organization, International Justice Mission (IJM). (PNA)