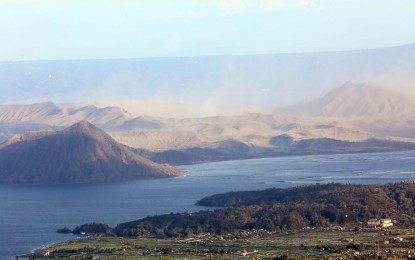 MANILA – No volcanic earthquake was detected in Taal Volcano for the past 24 hours, the Philippine Institute of Volcanology and Seismology (Phivolcs) said Monday.

The hot volcanic fluids in its lake also generated plumes 1,000 meters high. Alert level 3 (magmatic unrest) has been raised over Taal on Saturday, which indicates that there is magmatic intrusion at the main crater that may further drive succeeding eruptions.

"Magmatic intrusion means the rise of magma into shallower levels of the volcano, which can cause further explosions as the magma can explode because of gases inside it or when the magma interacts groundwater in the shallower levels of the volcano," Phivolcs director Renato Solidum Jr. said.

Volcanic earthquakes are caused by movements or eruptions of magma from the volcano, compared to tectonic quakes which are caused by fault movements.
Volcanic plumes, on the other hand, are columns of hot volcanic ash and gas emitted into the atmosphere during an explosive volcanic eruption. A weaker eruption is based on the height of the plume coming out of the crater.

Solidum earlier said the appropriate alert level for a volcano is determined by several parameters, such as the earthquakes recorded, ground deformation, the chemistry of gases and water, and surface manifestations.
He also noted that the number of earthquakes is not the only factor being considered, but also the type of earthquakes, location, depth, and energy of the quakes.

Taal Volcano's sulfur dioxide emission measured 1,140 tonnes on March 27.

On Saturday, Phivolcs chief science research specialist Ma. Antonia Bornas said the likelihood of raising Taal Volcano's alert status to level 4 is "not too high".

It may be put under alert level 2 (increasing unrest) if no phreatomagmatic activity occurs in the next two weeks, she said. Phreatomagmatic eruptions are caused by the interaction of magma and water.

Phivolcs has recommended the evacuation from Taal Volcano Island (TVI) and high-risk barangays of Bilibinwang and Banyaga, Agoncillo and Boso-boso, Gulod and eastern Bugaan East, Laurel, Batangas due to the possible hazards of pyroclastic density currents and volcanic tsunami should stronger eruptions subsequently occur.

Phivolcs also reiterated that entry into TVI and barangays of Agoncillo and Laurel must be prohibited, and all activities on Taal Lake should not be allowed. (PNA)