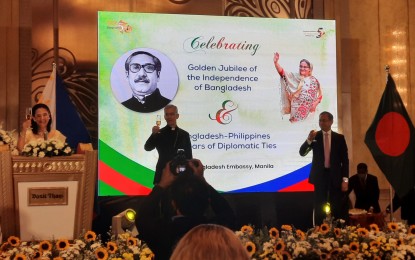 MANILA – Bangladesh is inviting Filipino investors to partner with local shipbuilders, touting a flourishing shipbuilding industry in the country.
"We have a wonderful shipbuilding industry in Bangladesh so we are trying to make some sort of cooperation with the Philippines in the sector," Ambassador Borhan Uddin told reporters on the sidelines of the Bangladesh Independence Day reception in Makati City Monday night.
"The Philippines can order at a cheaper rate small size ships to be built in Bangladesh and investors from the Philippines can also make a joint venture with the shipbuilders in Bangladesh," he added.
READ: Bangladesh ship industry sails on amid economic woes
There are around 100 shipbuilders and 120 registered shipyards in Bangladesh.
While the country largely works for orders from the domestic market, the Bangladeshi Investment Development Authority said its shipbuilding industry is positioned as an emerging player in the global market, "competitive enough for the smaller vessel segment benefiting from relatively cost-competitive engineers and workers."
Bangladesh's ship breaking and recycling industries, which are generally located close to shipyards, also allow local players to procure steel materials with ease.
As the two nations celebrate 50 years of diplomatic relations, the envoy said he also wanted to explore more areas of cooperation Dhaka and Manila could work on in the following years, including agriculture, connectivity, IT, garments, pharmaceutical, and glass fiber industries.
"We have wonderful relations we maintained in the past with the Philippines, still there are so many areas untapped. So we are trying to explore those areas," Uddin said.
Foreign Affairs Undersecretary Lourdes Yparraguirre said the next round of the Philippines-Bangladesh foreign policy consultations is being scheduled for the latter part of the year.
"In our 50 years of friendship, the Philippines and Bangladesh have worked closely together in various fields, spanning cooperation in the economic, air services, sports, culture, and merchant shipping sectors. We hope to expand these to more areas of cooperation," she said. (PNA)