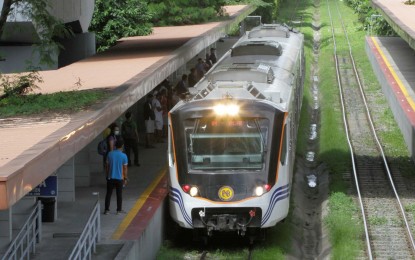 MANILA – The government should start implementing programs in State Universities and Colleges (SUCs) that will create a pool of railway technology experts in the country, Senator Joel Villanueva said Tuesday.
In a news release, Villanueva cited the need to make railway engineering and technology courses available in SUCs to meet the country's labor demands while it develops further the local railway industry.
The Department of Transportation (DOTr) earlier signed a PHP142 billion worth of contract with three Chinese companies for the first phase of construction of the 565-kilometer Philippine National Railways (PNR) Bicol project.
Villanueva, who also chairs the Senate Committee on Higher, Technical, and Vocational Education, said the PNR Bicol project could be "a huge job generator."
It will also prompt various SUCs in the country to offer railway engineering and technology courses, he added.
Villanueva said the Technical Education and Skills Development Authority (TESDA) should push railway-related training programs to become available for the construction sector.
He also urged the government's Task Group on Economic Recovery - National Employment Recovery Strategy to lay down the employment opportunities that the PNR Bicol Project can provide Filipinos and achieve the inter-agency body's target to create two million jobs.
Villanueva described the project as a "powerful economic stimulus, a catalyst of development, and a clean mode of transportation."
The PNR Bicol Project consists of 35 stations that will run from Manila through Laguna, Quezon, and Camarines Sur to Albay, with an extension line in Sorsogon and a branch line in Batangas.
The DOTr expects it to be finished in 2024 and railway operations may start in the third quarter of 2025.
To date, only the Polytechnic University of the Philippines is offering a graduate program in railway engineering.
The DOTr, through the Philippine Railway Institute, has signed a memorandum of understanding with the National Skills Academy for Rail of the United Kingdom for cooperation and collaboration in terms of education and training of Filipinos in the rail sector.
The partnership deal aims to train a highly-skilled, competent, and world-class rail workforce for the country.
Meanwhile, Villanueva said the Commission on Higher Education also has a memorandum of agreement with the DOTr for the continuing training of railway technicians and engineers. (PNA)