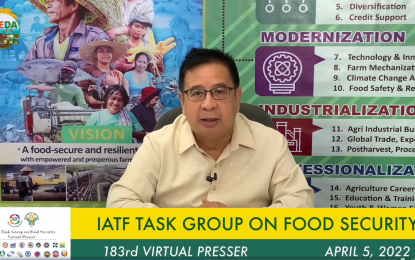 MANILA – The next administration should put a premium on agriculture and food security, considering the impact of the coronavirus disease 2019 (Covid-19) pandemic and the ongoing Ukraine-Russia conflict, according to a Department of Agriculture (DA) official.
In the DA's 183rd virtual press conference on Tuesday, Agriculture Undersecretary Fermin Dantes Adriano said candidates who will win in the upcoming May elections should ensure food sustainability in the country by having a stable supply of basic food items like rice, livestock, poultry, corn, and net fisheries.
"Lahat sa mundo ngayon (Everyone in the world), international organization, talagang worried na worried sila sa (are very worried for) food security, at pino-project nila na (they are projecting) magde-decline ang global productivity ng (by) more than 1 percent kasi napakamahal ng fertilizer (because fertilizers are very expensive). So kailangan talagang bigyang prayoridad ng susunod na administrasyon ang agriculture (the next administration needs to prioritize agriculture)," he said.
Adriano said based on expert projection, the effects of the Ukraine-Russia conflict on food security are expected to be felt from May to August this year, with a significant decline in wheat supply, creating a ripple effect on fertilizer, oil, and other productions.
"'Yun ang harvest season, na wala na tayong mabibiling trigo, mahihirapan tayo at 'yung mais, kasi sila 'yung mga major producers, and 'yung countries like Egypt and Saudi Arabia na dependent sa trigo nila sa pagkain, ay mahihirapan at baka yung iba dun bumili ng bigas, kaya magta-tighten 'yung supply natin (That's during harvest season, we might be unable to buy wheat, it will be difficult for us, even corn, they are the major producers, countries like Egypt and Saudi Arabia which are dependent on their wheat for food might have a hard time, some might resort to buying rice, our supply will tighten)," he explained.
He said they will come up with recommendations for the next administration to take into careful consideration.
Moreover, Adriano noted that food security deserved to receive a huge investment from the state to ensure long-term growth, citing several other countries like South Korea, Thailand, and Vietnam, which are enjoying stability amid the global challenges.
"Bakit nila kayang gawin 'yun, kasi binigyan ng prayoridad ng gobyerno nila 'yung agriculture (Why are they able to do it? Because their government prioritized agriculture). It is the basis of a sound development process. Prioritizing agricultural development is the anchor towards the sustainable development process," he said.
The DA, meanwhile, noted the country has now reached an unprecedented 92-percent self-sufficiency on rice, citing the benefits of the implementation of the Rice Tariffication Law (RTL) and the Rice Competitiveness Enhancement Fund (RCEF). (PNA)