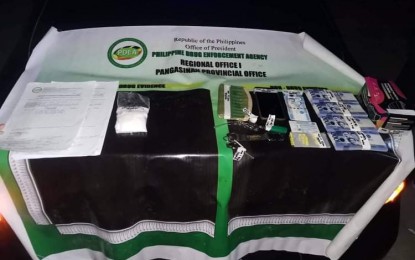 CALASIAO, Pangasinan – Authorities here have seized some PHP680,000 worth of suspected shabu from a high-value target (HVT) in an entrapment operation on Tuesday.
In an interview on Wednesday, Philippine Drug Enforcement Agency (PDEA) Pangasinan provincial officer Rechie Camacho identified the suspect as Aaron James Andaya, a resident of this town.
The PDEA-Pangasinan and the Calasiao police conducted the operation on Tuesday night at Barangay Nalsian in Calasiao town, he said.
Camacho said they have confiscated from the suspect some 100 grams of suspected shabu, drug paraphernalia, and buy-bust money, among others.
"He (Andaya) is an HVT because of the coverage of his illegal drug transaction. Prior to this arrest, the suspect was arrested last year in the same case with over PHP400,000 worth of shabu. However, due to technicalities, he was released from prison," he added.
Camacho said they will ensure that the case against the suspect being readied to be filed will be tight.
He encouraged the public to be vigilant and report to the police any suspicious persons or activities in their area.
"Since there are buses now plying to and from the province, we expect more activities from the illegal drug traders but we are also on alert against them," he added. (PNA)