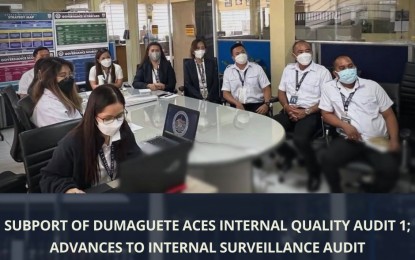 DUMAGUETE CITY – The Bureau of Customs (BOC) sub-port of Dumaguete has exceeded its target for the first quarter of this year, reaching close to PHP2 billion in revenue collection.
Gina Fatima Lasola, BOC-Dumaguete subport acting collector, told the Philippine News Agency on Wednesday that their office registered a total actual collection from January to March of about PHP1.949 billion.
This is higher by 7.93 percent or about PHP143.250 million than the total target for the first three months of PHP1.806 billion, she said.
"We also exceeded the 2021 actual collection for the same period by 38.86 percent," she added.
The Dumaguete subport posted an actual collection of PHP1.404 billion in the first quarter last year, she added.
Lasola, who took over her current position in an acting capacity after Dumaguete Customs collector Fe Lluelyn Toring retired last December, said they are doing their best to keep up with the revenue collections considering that the BOC had given them a PHP6.284-billion target for 2022.
Meanwhile, the BOC-Dumaguete sub-port passed the Internal Quality Audit (IQA-1)-New Document Audit on Tuesday, with "no critical observations", she said.
"We are happy for this achievement as we strive to maintain our quality management to the highest standard while preparing to move forward to the surveillance audit in June this year," Lasola said, as she thanked the men and women of the Dumaguete sub-port and the guidance from the BOC Port of Cebu.
"We are trying our best to continue the legacy of Ma'am Fe (Toring)," she added.
The sub-port of Dumaguete was first recognized as the first sub-port and the second Customs office to be certified with the ISO 9001:2015 in December 2020.
ISO 9001:2015 is a quality management system where an organization meets requirements, such as providing efficient services and products that exceed customer satisfaction. (PNA)