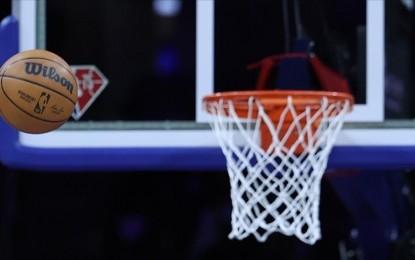 ISTANBUL – The Los Angeles Lakers have been eliminated from playoff contention after losing to the Phoenix Suns 121-110 on Tuesday night.
The Lakers led 31-28 at the end of the first quarter but the Suns had a good start at the second period, building a 35-27 lead.
By the end of the third quarter, Phoenix were leading 98-80 as they produced 35 points at Footprint Center.
Los Angeles, who played without superstar LeBron James for a second consecutive game, have lost seven straight games.
James, 37, was ruled out for Tuesday night's game because of a sprained left ankle.
Devin Booker was the highest scorer of the game with 32 points and seven rebounds.
Deandre Ayton scored 22 points, 13 rebounds double-double, plus two assists. Cameron Johnson came off the bench to add 12 points.
Five players registered in double-digit for the away side. Anthony Davis posted a double-double with 21 points and 13 rebounds. Russell Westbrook (28), Austin Reaves (18), Dwight Howard (10) and Carmelo Anthony (10) were LA Lakers' other double-digit scorers.
With this win, the Suns have set a new franchise record of 63 wins in a season. They are in the top spot in the Western Conference standings
Lakers are in 11th place in the standings with 31 wins and 48 defeats.
Nikola Jokic's 41-point double-double not enough to beat Spurs
San Antonio Spurs beat Denver Nuggets with a 116-97 score at Denver's Ball Arena.
Spurs guard Tre Jones made a double-double with 14 points and 10 assists. Keldon Johnson and Devin Vassell scored 20 points each for their team.
For the losing side, Serbian center Nikola Jokic led with 41 points and 17 rebounds.
Also, Aaron Gordon posted a double-double with 18 points and 13 rebounds.
San Antonio Spurs improved to 34 wins and 45 losses to be in the 10th spot while Denver Nuggets are in the sixth place in the standings with 47 wins and 33 losses in the Western Conference.
Other results: Sacramento Kings - New Orleans Pelicans: 109-123; Utah Jazz - Memphis Grizzlies: 121-115; Oklahoma City Thunder - Portland Trail Blazers: 98-94; Minnesota Timberwolves - Washington Wizards: 114-132; Chicago Bulls - Milwaukee Bucks: 106-127; Toronto Raptors - Atlanta Hawks: 118-108; Miami Heat - Charlotte Hornets: 144-115; Brooklyn Nets - Houston Rockets: 118-105; Orlando Magic - Cleveland Cavaliers: 120-115; Indiana Pacers - Philadelphia 76ers: 122-131. (Anadolu)