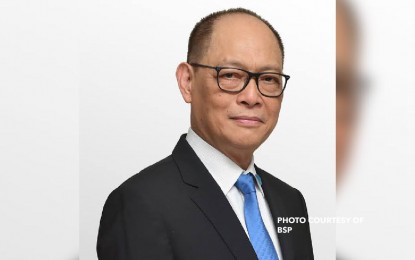 MANILA – The Bangko Sentral ng Pilipinas (BSP) is now working with the Bangsamoro government, along with several government agencies, as part of the whole-of-government approach to encourage investment in Islamic banking.
In a virtual briefing on Thursday, BSP Governor Benjamin Diokno said monetary authorities have established a comprehensive set of regulations to promote wider investor and consumer participation on Islamic banking.
This, following the signing into law of several measures in recent years, such as the Organic law for the Bangsamoro Autonomous Region in Muslim Mindanao, the Act Amending the BSP Charter, and the Act Providing for the Regulation and Organization of Islamic Banking Banks.
Diokno said these regulations include Circular No. 1069, which discusses licensing framework; Circular No. 1070 or the Shari'ah Government Framework; and Circular No. 1116 discussing liquidity risk management.
He said the central bank issued on March 23, 2022 the reporting framework for Islamic banks and Islamic banking units, which is "aligned with the BSP's single regulatory and supervisory framework."
"It highlights that (the) existing regulations apply to Islamic banks and Islamic banking units insofar as these are consistent with Shari'ah principles or requirements," he added.
Diokno said Islamic banking units are required to segregate its books and records from those of its conventional bank.
"Aside from promoting transparency, this aims to ensure that transactions of the Islamic banking unit are carried out in accordance with Shari'ah principles," he said.
Islamic banking is different from conventional banking since the former does not impose interest in accordance with the Shari'ah law promoting risk-sharing.
To date, the Al-Amanah Islamic Investment Bank of the Philippines is the only Islamic bank in the country.
The bank was created in 1973 through Presidential Decree No. 264 and was initially named Amanah Islamic Bank. It has a capitalization amounting to PHP50 million.
It is currently under the Development Bank of the Philippines (DBP) after the latter obtained ownership of the former's 99.9 percent shares following the acquisition of the shares of the national government, the Social Security System (SSS), and the Government Service Insurance Corporation (GSIS) in 2008.
With the enactment of several laws supporting the establishment of Islamic banks or Islamic banking units, Diokno said the BSP has received inquiries regarding the establishment of such, even from a foreign bank.
He, however, said that no formal application has been submitted to the BSP to date.
"Potential players are perhaps conducting market research," he added.
Asked for issues or concerns raised by financial institutions regarding the setting up of Islamic banks, Diokno said "law awareness or understanding of Islamic banking remains a major concern."
"To address this, the government is mandated to provide capacity building programs which cater to the specific needs of different stakeholders, both in the public and private sector," he said.
The other concerns include capital requirement to establish a Shari'ah governance framework, he said.
Capital requirements for setting up of an Islamic bank or Islamic banking units range from PHP10 billion to PHP20 billion depending on the number of branches, BSP deputy director and head of the Islamic Banking Supervision Group lawyer Noel Tianela said. (PNA)