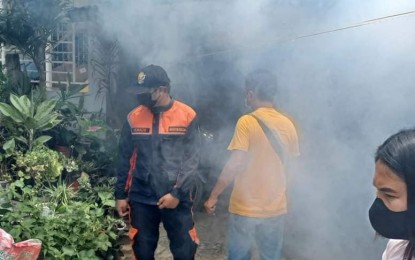 ZAMBOANGA CITY – The city government here has ordered the activation of a task force and drafting of a preparedness plan after the City Disaster Risk Reduction and Management Council (CDRRMC), in an emergency meeting Friday, approved a resolution declaring a dengue outbreak here.
Mayor Maria Isabelle Climaco-Salazar, who chairs the CDRRMC, said in an interview Saturday that the city has exceeded the dengue threshold for four consecutive weeks based on the report submitted by the City Health Office (CHO).
The CHO has recorded 893 cases, with 11 mortalities, from January 1 to April 2.
A seven-year-old boy from Barangay Bolong was the first reported fatality in late January.
"The task force will focus on addressing cases of dengue in different areas of the city," Salazar said.
Dr. Ivy Iturralde, City Epidemiology and Surveillance Unit chief, said 85 dengue cases were reported for morbidity week 13, which is 963 percent higher compared to the same period in 2021 when an outbreak was also declared.
The figures are likewise 257 percent higher than the five-year average (2017-2021) of 24 cases during the same period.
The dengue incidence rate per 100,000 population in the city is 99.64 while the villages with the highest incidence rate per 10,000 population are Boalan, Divisoria, Mercedes, Pasobolong, and Culianan.
Zambowood, Sta. Barbara, Putik, Sta. Maria, and San Roque have also reported rising cases.
The city government urged the public to practice the 4-S campaign: Search and destroy mosquito-breeding sites; secure Self-protection measures like wearing long pants and long-sleeved shirts and daily use of mosquito repellent; Seek early consultation; and Support fogging/spraying in hotspot areas where increase in cases is registered for two consecutive weeks.
Dengue is a viral infection transmitted to humans through the bite of infected mosquitoes called Aedes aegypti, which usually bite between two hours after sunrise and two hours before sunset.
The most common symptoms are fever with any of the following: nausea, vomiting, rashes, aches, and pains, like eye pain or typically behind the eyes, muscle, joints, or bones. (PNA)