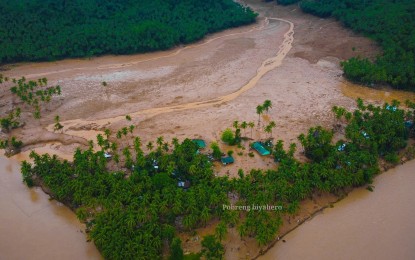 TACLOBAN CITY – At least 21 persons have been killed in Baybay City, Leyte due to landslides induced by heavy downpour dumped by Tropical Depression Agaton, the Philippine National Police (PNP) reported on Tuesday.
Of the 21 bodies retrieved, 14 were found at the landslide site in Mailhi village, three in Kantagnos village, two in Maypatag village, one in Bunga village, and another one in Kan-ipa village.
Only two bodies have been identified so far as responders braved heavy rains and massive flooding to unearth more bodies since Sunday.
Most landslide incidents occurred on Sunday when the state weather bureau raised Tropical Cyclone Warning Signal No. 2 in most parts of Leyte Island.
The PNP reported that two bodies were also recovered on Monday in Tib-ong village in Abuyog town and Caranas village in Motiong, Samar. The cause of their death is still unclear, but they have been categorized by the police as typhoon-related casualties.
Up for retrieval is a family of five buried by landslide debris in Kan-ipa village and another one in Guadalupe village.
Still missing is Adrian Paulo Tulin, 28, a resident of Pangasugan village in Baybay City who was last seen Sunday afternoon swimming on a beach in Guadalupe village.
He is the son of Edgardo Tulin, president of Visayas State University, a leading university in agriculture and allied fields based in Baybay City.
As of early Tuesday, police stations logged at least 82 injuries in Leyte province due to landslides and flooding caused by "Agaton".
"We don't have official count on casualties since we are still consolidating reports from local government units and PNP. The extent of damage is massive. We are deploying a regional incident management team to Baybay this morning to coordinate search, rescue, and retrieval operations," said Office of Civil Defense Regional Director Lord Byron Torrecarion in a text message.
The OCD reported that 115 communities in Leyte, Southern Leyte, and Eastern Samar provinces have been affected by massive flooding, forcing nearly 68,000 residents to move to safer grounds since Sunday.
In Baybay City alone, the local Disaster Risk Reduction and Management Office reported that as of Monday night, over 3,000 families remained in evacuation centers.
As of Tuesday morning, the center of "Agaton" was estimated based on all available data in the vicinity of Marabut, Samar. It has maximum sustained winds of 45 kilometers per hour near the center and gustiness of up to 75 kilometers per hour.
Moderate to heavy rains are expected over Eastern Visayas on Tuesday. All the six provinces in the region -- Eastern Samar, Samar, Northern Samar, Biliran, Leyte, and Southern Leyte remained under tropical cyclone warning signal No. 1. (PNA)