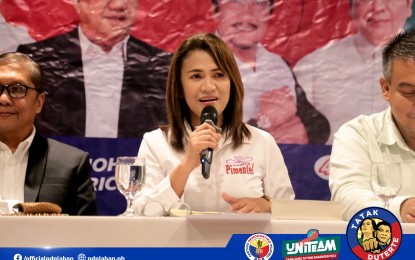 MANILA – President Rodrigo R. Duterte thinks that senatorial aspirant and former executive director of the Commission on Filipinos Overseas, Astravel "Astra" Pimentel, deserves a spot in the Senate because of her "basic knowledge of community life."
"Si Astra, with her basic knowledge of a community life, her being there in the Senate would go a long way to help the less privileged na sa taong Pilipino, 'yung nakakalimutan natin (Filipinos, those we tend to forget)," he said in the third episode of The President's Chatroom aired on Monday night.
During the program, Duterte asked Pimentel, a distant relative of former Senate president Aquilino "Nene" Pimentel Jr., why she decided to join the senatorial race.
She said Mindanao "did not have a woman senator for the longest time."
"The first time and the only ever time that Mindanao produced a woman senator was 35 years ago in the person of Santanina Rasul and never did it happen again na mayroong babaeng senador mula sa (that there was a female senator elected from) Mindanao," Pimentel said.
She also wanted to be the "voice" of the indigenous peoples (IPs) in the Senate, because she belongs to the IP community.
"My parents were Talaandig and Higaonon tribe. My lolo (grandfather) was a combination of Maranao and Maguindanao. I found it very endearing para sa akin (for me) that there should be a voice among the IPs in the Senate because there are so many issues that need to be addressed," she added.
If elected as senator, Pimentel said she would focus on tourism for job creation and poverty reduction.
"Tourism will not only strengthen our economy. Tourism will strengthen MSMEs (micro, small and medium enterprises) as well, because thriving businessmen and 'yung mga maliliit natin na mga (our small) businessmen ay magkakaroon ng oportunidad para sila ay lumawak ang kanilang negosyo (will have the opportunity to expand their business). The more tourists that we have, the more opportunity for people to have food on their table," she said.
Pimentel said she would also work on expanding the Republic Act 10931 or the Universal Access to Quality Tertiary Education Act to provide opportunities for students who did not finish at the top of their class.
"Iyon po 'yung suggestion natin (That's my suggestion), Mayor. Scholarship should not be limited only to those students na nagpakita ng kanilang katalinuhan (who show intelligence)," she said.
Pimentel also noted that she would push for transportation for IP children, especially those living upland.
"The infrastructure program of the government should be continued up to the far-flung areas. Wherever there are Filipinos living in the countryside, dapat mayroong (there should be) access to road," she added.
She said she would lobby for measures to construct rural infrastructure aimed at improving agricultural productivity.
Farmers will also be given training courses and seminars to help them learn more about the various aspects of agriculture, she added.
Before her appointment as executive director of the Commission on Filipinos Overseas, Pimentel worked as assistant to the Chief of Staff at the Office of Senate President "Koko" Pimentel, son of Nene Pimentel.
She was also coordinator for the Partido Demokratiko Pilipino – Lakas ng Bayan (PDP-Laban) Affairs.
Pimentel is running under the banner of PDP-Laban. (PNA)