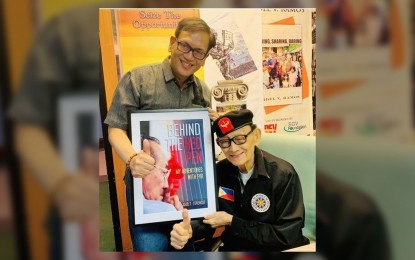 MANILA – As the nation chooses a new leader in three weeks, former President Fidel V. Ramos said the next president should have a solid roadmap and a long-term vision for the country to fully recover and regain its status as "Asia's Rising Tiger."
Ramos, whose six years in Malacañang brought solid socio-economic gains for the country, also said the next leader should work for inclusive sustained economic growth that will be felt by the grassroots.
"You know, we can still attain that," Ramos said in an interview which is contained in a new book on his presidency entitled "Behind the Red Pen" authored by veteran communications executive Jojo Terencio.
"We just need a road map, a long-term vision for the Philippines. And that has to be provided by the President and everybody must work together to make that vision a reality," Ramos pointed out.
He, however, reminded the citizenry of their shared responsibility in sustaining the country's progress and development, saying "the government cannot do it alone. We all have to do our share."
Ramos again likened the Philippines to a "sinking ship" due to many leaks caused by internal strife and disunity.
"The President, as our captain, needs to be mindful of where these leaks are coming from and act on it immediately," he stressed. "And because we are all together onboard, we need to pull an oar or plug a leak. We have to do everything for the country."
The Philippines was once called "Asia's Rising Tiger" because of its fast-growing economy, with an average annual growth rate of 6 to 7 percent each year. It was a title the country held for several years until the Covid-19 pandemic hit the global economy in 2020.
"Behind the Red Pen" takes the readers back to some of the key events and personalities during the six-year FVR presidency from 1992- 1998. The book, which also features never-before-seen photos, provides the readers the opportunity to know Ramos as a leader and gives a glimpse of the former president's private persona.
In the book's Foreword, Ramos said reading the book made him nostalgic about his stint at the Palace as it brought so many memories of events that happened almost three decades ago.
"My administration had its ups and downs. But overall, it was a good six years. It was an era where we proved what unity, solidarity and teamwork can do for our country," he said.
The title gets its inspiration from FVR's ubiquitous red pens, which he used since his military days to issue handwritten memoranda, marginal notes and directives.
The book is available at Solidaridad (Manila) and Popular Bookstore (Quezon City). For online orders and delivery, contact Serendipithings at 09202717323. (PR)