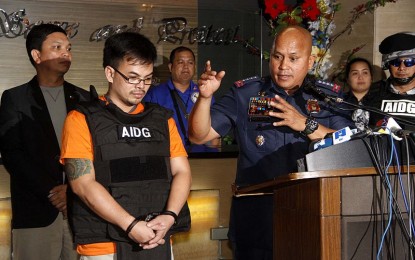 MANILA – Self-confessed drug lord Kerwin Espinosa has been transferred to a secure holding facility of the Bureau of Jail Management and Penology (BJMP) at Camp Bagong Diwa, Taguig City, the Department of Justice (DOJ) bared Tuesday.
Prosecutor General Benedicto Malcontento, in a text message to the media, said motions to authorize Espinosa's transfer have been "filed in all courts where cases (against him) are pending."
"He has been transferred to Taguig last week," Malcontento confirmed.
Espinosa was booted out of the National Bureau of Investigation (NBI) holding facility after he tried to escape on January 13.
The raiding team saw a deformed exhaust fan which, when removed, exposed a hole fit for a detainee to escape, according to the NBI report.
Espinosa has also been removed from the Witness Protection Program following various offenses.
In December last year, a Makati court dropped one of the charges against Espinosa and co-accused Wu Tuan Yuan (alias Peter Co), Marcelo Adorco, and Lovely Impal "for failure of the prosecution to adduce evidence to overturn the presumption of innocence enjoyed by the herein accused".
They are still facing cases in other parts of the country. (PNA)