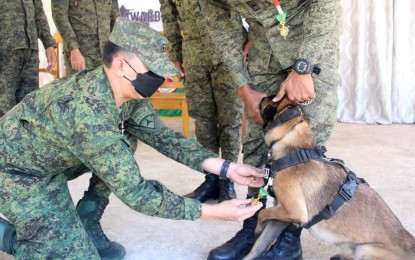 DUMAGUETE CITY – The Communist Party of the Philippines-New People's Army (CPP-NPA) capability in Negros Island has diminished over the years compared to the previous elections, Maj. Gen. Benedict Arevalo, Army commander for Western and Central Visayas, said on Tuesday.
Arevalo, who heads the 3rd Infantry Division based in Panay, said in an interview, that it is "very, very much better compared to the last elections because I was (assigned) here in 2019 and that was also election time".
"Compared to three years ago, there's a big improvement already (in our counter-insurgency operations), their (NPA) activities decreased dramatically and I can see that the organization is really weakened," he said.
However, he emphasized the need for sustained operations against the insurgents to ensure that they can no longer recover the forces that they previously had in the past years.
"Of course, we will still not take chances for as long as there are still a number of them and they still have the propensity to really recover, that is why we are doing our best, not letting our guards down and keeping up with our operations," he said.
Army officials have previously said they were being vigilant against possible attacks by the NPA during this election season.
The 3ID commander visited the 11th Infantry Battalion at its headquarters in Barangay Salag in Siaton town, about an hour's drive from this capital, to commend the soldiers and hand over military merit medals in relation to the April 14 encounter with suspected NPA rebels in Barangay Enrique Villanueva in Sibulan, Negros Oriental.
11IB soldiers clashed with 12 suspected remnants of the NPA's dismantled South East Front and recovered a cache of firearms, ammunition, explosives, personal belongings, and suspected subversive documents.
Arevalo handed out Military Merit Medals with Bronze Spearhead Device to 2nd Lt. Jay-Ar Labasan and nine enlisted personnel who figured in that skirmish.
He also gave a Military Merit Medal to "Ella", a Belgian Malinois military dog, and his handler, Private First Class Dave Calumbres, for their significant role in the encounter wherein they guided troopers to the body of a slain suspected NPA rebel, later identified as Jonard Salo alias Lino/Rapid/Nikko, Team 2 leader of the SEF remnants.
Arevalo told the troops there is still plenty of work to do as "there is more than we can accomplish in the coming months."
Meanwhile, Lt. Col. Roderick Salayo, 11IB commanding officer, thanked his superiors for the recognition given to his soldiers in their relentless fight against the NPA.
"We're proud and thankful that the sacrifices made by our soldiers were recognized by our chief, Maj. Gen. Benedict Arevalo and this gives us high morale to continue no matter what with our mission," Salayo said in mixed English and Filipino.
He also extended his appeal to the insurgents to return to the fold of the law and said whatever issues they have, the government is willing to sit down and talk with them and attend to their needs.
The CPP-NPA is listed as a terrorist organization by the United States, the European Union, the United Kingdom, Australia, Canada, New Zealand, and the Philippines.
The National Democratic Front has been formally designated as a terrorist organization by the Anti-Terrorism Council on June 23, 2021, citing it as "an integral and inseparable part" of the CPP-NPA created in April 1973. (PNA)