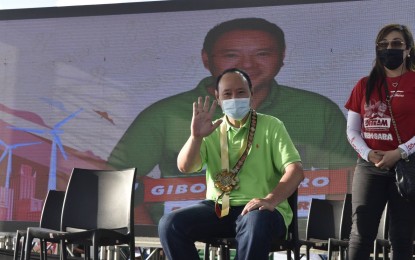 MANILA – Former Defense Secretary and senatorial candidate Gilbert "Gibo" Teodoro on Tuesday proposed a gradual shift to federalism starting with building local government capacities.
In a media forum, Teodoro said while he has ambivalent feelings toward federalism, he said there is a need to change the current political system whilst difficult to do so.
He said a gradual introduction of a federal system could be made more feasible if the first route taken is strengthening local governments.
"That (federalism) is where we're headed since we're an archipelago. But for me, rather than legislate federalism ex-ante and have the risks of failed expectations, (we should) prepare the country for eventual federalism by building the local government capacities through infrastructure, governance, synergies, and other externalities," he said.
"And then we can move on from there. For me, it is just the first stage. If our countrymen could accept that charter change is possible (from these small changes), then they would agree to even bigger changes in the future," he added.
He said to make the country's political structures more encompassing, barangay officials should be considered partisan and be part of political parties.
Barangay officials, including barangay health workers, should also be given proper compensation and benefits for their volunteerism, he noted.
"Having this volunteerism attitude with the strictures involved in volunteerism does not work. I really want to modify the ethics law and Anti-Graft and Corrupt Practices Act because they discourage volunteerism in government," he said.
He also suggested allowing contributions made by individuals to political parties as tax-deductible so that these parties could have sustenance.
"At least political parties will have the means of sustaining themselves already and perhaps the means of taking care of their members," he said.
He said such a move would strengthen the political system somehow because private individuals would be more inclined to invest in a stronger political party, thus reducing the survivability of other parties.
"The incentive to invest in a political party of a private individual will go to a stronger one so you'd be left with 3 or 4 and that would strengthen your political system somehow," he said. (PNA)