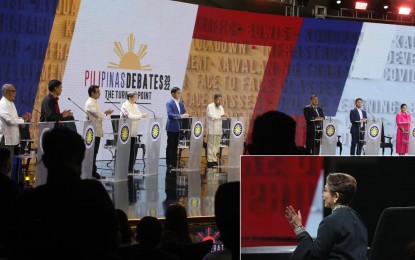 MANILA – The last of the three-part "PiliPinas Debates 2022" of the Commission on Elections (Comelec) will now be an interview format.
The taped interviews, renamed "COMELEC-KBP Kapisanan ng mga Brodkaster ng Pilipinas) Pilipinas Forum 2022", are tentatively scheduled to air on May 2 to 6 with all candidates to undergo a one-hour panel interview, according to an advisory released Monday.
They can opt for a virtual or face-to-face interview.
The poll body said they are scratching the debate events because of conflict in the schedules of candidates.
Unpaid dues to Sofitel Philippine Plaza Manila, venue of the first two parts, also prompted the canceled debates over the weekend.
Commissioner Rey Bulay, who is tasked to investigate the Sofitel mess, said he is still studying the statements submitted to him.
"I only received all the responses from the departments at 12 noon today (Monday). I'll have to read all of them," he said in a press briefing.
Among those who responded to the memorandum were the offices of the Executive Director, Deputy Executive Director for Administration, Bids and Awards Committee, and Education and Information Department.
"Actually, it's not that easy because I have some clarificatory questions on their responses," Bulay said. "I have to review their responses. I don't want to be unfair, to condemn without hearing (them). Let us not do that."
Commissioner George Garcia said the interview guidelines will be released on Tuesday.
"Comelec has the final say, including editing. The panelist will be provided by KBP," he said in a statement. (PNA)