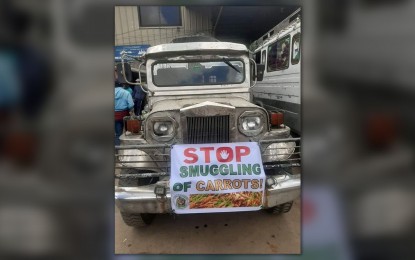 MANILA – Department of Justice Secretary Menardo Guevarra on Tuesday said government agencies are already looking into cases of smuggling of agricultural products, including the alleged misdeclaration of goods to escape or avail of lower tariff rates.
Guevarra told reporters via text message that he has directed the National Bureau of Investigation (NBI) to conduct its independent investigation on reports of rampant smuggling of certain agricultural products, misdeclaration, and undervaluation.
When categorized as unfit for human consumption, like reports of palm oil declared as animal feeds, the goods won't be taxed, according to the Department of Agriculture (DA).
Guevarra said prosecutors were also ordered to promptly pursue pending preliminary investigation cases on agricultural smuggling.
"I have directed our state prosecutors to check their dockets and speed up the preliminary investigation and pursue their prosecution in court. The DOJ and the ARTA (Anti-Red Tape Authority) are coordinating efforts to build up cases against those in the government and private sectors, who are suspected of participation in agricultural smuggling activities," the DOJ chief said.
DA Undersecretary Fermin Adriano previously said they are coordinating with ARTA to identify agency officials and individuals who exploit loopholes and abet smuggling.
He also appealed that the DA be given police power to apprehend and file charges against smugglers in the country, whether technical or outright.
A DA-ARTA investigation showed a huge discrepancy in the volume of palm oil imports certified by the Bureau of Animal Industry against those allowed to enter by the Bureau of Customs.
Agot Balanoy, public relations officer of the League of Associations at the La Trinidad Vegetable Trading Post, said in a recent interview that farmers are losing PHP25 per kilo worth of produce, or an estimated PHP2.5 million worth of losses daily, due to a decrease in demand as consumers prefer buying vegetables smuggled from China. (PNA)