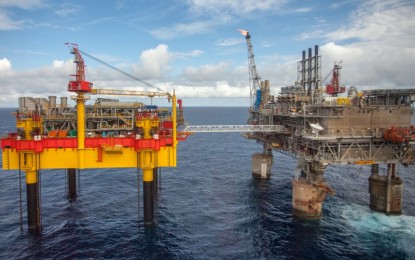 MANILA – The Department of Energy (DOE) has urged Singaporean businesses, as well as other foreign investors, to look into the country's investment prospects in the energy sector, which amounts to USD153 billion.
During the 3rd Philippine-Singapore Business and Investment Summit Wednesday, DOE Undersecretary Felix William Fuentebella said these required energy investments would help the country achieve the clean energy scenario under the Philippine Energy Plan.
About 80 percent of the total investment requirements are for power, which include USD115.3 billion for new power plants and USD6.97 billion for transmission projects.
"The required investments for RE (renewable energy) alone amounts to USD94.3 billion," Fuentebella said.
He added that about 15 percent of the needed investments are in the upstream sector composed of oil and gas exploration and development at USD10.05 billion, coal exploration and production at USD13.12 billion, and pre-development activities for renewable energy at USD510 million.
The downstream energy sector, on the other hand, will be needing USD2.94 billion investments in oil distribution depots and import terminals; USD1.78 billion for liquefied natural gas terminals; and USD2.38 billion for biofuels production.
"Given the capital-extensive nature of the energy sector, we anticipate the active participation of the private sector as well as the public-private partnerships to help us finance in bringing these critical energy infrastructure projects into fruition," Fuentebella said.
He said the Duterte administration has spent more than five years setting up a sound and long-term plan to help in building a sustainable energy future for the Philippines.
"Whatever we invest today would have far reaching returns and benefits for the Filipino nation in the years ahead," he added. (PNA)